Stephen Lee: Suspended snooker player targets Crucible comeback
Last updated on .From the section Snooker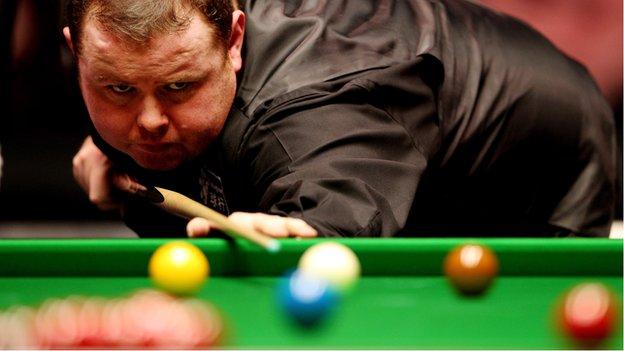 Suspended snooker player Stephen Lee has applied to play in the World Championship, despite being at the centre of a match-fixing investigation.
He has not played competitively since being suspended in October 2012 as part of an inquiry into betting patterns around a game against John Higgins.
Lee, 38, faces a formal independent hearing arranged by Sport Resolutions UK over separate allegations.
But he could appear at the Crucible if he is cleared before the draw is made.
Lee, who strongly denies the claims, ran into a rich vein of form at the end of last season which saw him return to the world's top eight after winning the PTC Grand Finals in Galway, his first ranking title in six years.
No date has yet been set for the corruption hearing, and the case will almost certainly need to be resolved - and Lee cleared of all charges - for him to stand a chance of a comeback in the sport's biggest tournament, which starts in Sheffield on 20 April.
He would not be eligible to play, as he would remain suspended, if the hearing has not taken place before the scheduled draw for qualifying matches on 1 April.
If Lee is found guilty of breaching snooker's rules in any of the eight matches under investigation he could face a lengthy ban.
Jason Ferguson, chairman of snooker's governing body, the WPBSA, told BBC Sport: "We are subject to the legal process. We hope things can move very quickly."
Both parties are keen for a speedy resolution to the case, although legal wrangling has meant a date has yet to be finalised.
"Stephen has been very positive considering everything that's gone on, and obviously he insists he's done nothing wrong," said his manager Adam Quigley.
"He's still practising and still doing the odd exhibition."
The world's top 32 players, including Lee and the returning champion Ronnie O'Sullivan, have formally entered the 2013 World Championship.
O'Sullivan's ranking has dropped from nine to 28 after he took a break from the game. But, as defending champion, he will return as top seed.
Veterans such as Jimmy White, Steve Davis and Ken Doherty are expected to take part in qualifiers in early April.
White, who is currently ranked 57, and Davis (49) will have to win three matches to make it through to the televised stage, while Doherty (29) and fellow former champion Peter Ebdon (30) would only need to win one.
Lee is accused of rule breaches in a match at the 2009 World Championship.
The father-of-four faces further claims involving four games at the 2008 Malta Cup, two matches at the UK Championship that year and one match at the 2009 China Open.
He is accused of providing information that "is not publicly available" and deliberately influencing "the outcome or conduct of a game or frame".
The player, from Trowbridge in Wiltshire, was arrested in February 2010 by police investigating suspicious betting patterns, but denied any wrongdoing and was told in October 2012 that he would not face a criminal prosecution over the allegations.
Lee has been ranked as high as fifth in the world and began this season at number eight, but is now ranked 16 and would probably have to play a qualifying match if he was allowed to return.
After learning last month he had a case to answer, Lee issued issued a statement through his lawyer, Tony Miles.
"He does not accept that he has been involved in any breaches of the rules and regulations and is gravely disappointed that a decision has been taken to bring proceedings against him," he said.
Miles declined to comment further on the forthcoming case or Lee's eligibility for the World Championship.
Lee was suspended in October when the WPBSA opened a separate inquiry, which has not been concluded, into a Premier League match against Higgins.
Scottish four-time world champion Higgins is not being investigated.
World number 60 Joe Jogia was banned for two years and ordered to pay £2,000 costs in July after a large amount of small bets were placed on Matthew Selt to win their shoot-out match in January.