World Snooker: Stephen Hendry wins Crucible qualifier
Last updated on .From the section Snooker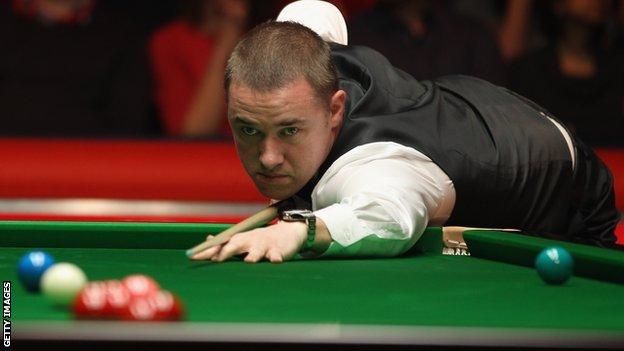 Seven-time world champion Stephen Hendry will compete at The Crucible for a 27th consecutive year after winning his World Championship final qualifier.
The 43-year-old Scot, now ranked 23, resumed 6-3 up against China's Yu Delu on Sunday and went on to win 10-6.
Hendry, who has been a fixture at the Crucible since his debut in 1986, will go into Monday's first-round draw.
It will also include Belgian 17-year-old Luca Brecel, who will become the youngest ever to play at the Crucible.
Ranked 87 in the world, Brecel - in his first year on the professional tour - beat world number 31 Mark King 10-8. At 17 years and one month, he will surpass Hendry, 17 and 3 months when he made his Crucible debut in 1986, as the youngest player to qualify for the World Championship.
"It feels fantastic," said Brecel, who also beat Ian McCulloch 10-2, Barry Pinches 10-3 and Michael Holt 10-9 in earlier qualifying matches.
"I knew if I qualified I would be the youngest ever. No one can criticise me now. Since I started playing snooker I wanted to be world champion. I went to the Crucible last year to watch. It was unbelievable, I loved the atmosphere."
Brecel will be aiming to go one better than the four previous 17-year-olds to appear at the Crucible, who all lost in the first round.
Peter Ebdon, world champion in 2002, continued the good form that saw him win the recent China Open by whitewashing Alfie Burden 10-0 to seal his passage.
Two legendary snooker figures have already been eliminated from this year's qualifying competition, Steve Davis and Jimmy White both bowing out in the fourth qualifying round.
Hendry, who claimed the last of his world titles in 1999, has not won a ranking event since the Malta Cup in 2005 and had to endure a Crucible qualifier for the first time since 1988.
After breaks of 129 and 107 to take a 6-3 overnight lead, a run of 73 took him 7-3 up before Yu reduced the gap to 7-5. But breaks of 69 and 76 saw Hendry move 9-5 ahead, and after Yu took the 15th, he sealed victory with a run of 88.
"It was a huge match and I had to go into it with the mindset of just trying to win, however I played," said Hendry, who has only lost one qualifer in ranking events since dropping out of the top 16 earlier in the season.
"It would have been horrible not to qualify as this is the biggest tournament. I can't wait for it now, I will just enjoy it and I don't care who I get in the draw."
Marco Fu, a Crucible semi-finalist in 2006, also progressed with a 10-4 win over Joe Jogia.
Ken Doherty, the 1997 world champion, squeaked through 10-9 against Anthony Hamilton on Saturday, while world number 15 Ricky Walden lost 10-2 to Welshman Jamie Jones, ranked 36.
World number 33 Hamilton, four times a quarter-finalist at the Crucible, recovered from 9-7 down to force a deciding frame, in which he led by 48 points.
But Doherty, who won the last of his six ranking titles at the 2006 Malta Cup and is now ranked 32, produced a superb clearance of 62.
"It feels beautiful," said the Dubliner. "He played so well and I couldn't shake him off. It was the toughest match I could have had. In the last frame I had resigned myself to losing. The clearance I made was one of the best of my career because there was so much at stake."
Welshman Jones, who made a 147 break at the age of 14, also beat Walden when reaching the final of a Players Tour Championship event last season, and this season defeated world champion John Higgins 4-3 to reach the last 16 of the Players' Tour Championship Grand Finals.
"It hasn't sunk in yet that I'm going to the Crucible, it's crazy," said the 24-year-old from Neath. "I went there as a spectator about 10 years ago and I was barely even watching the matches, I was just dreaming of playing there. Maybe it will sink in when the draw comes out."
Also through to the main draw are Mark Davis, who beat Robert Milkins 10-5, two-time Crucible quarter-finalist Ryan Day, who came from 7-3 down to overcome Gerard Greene 10-8, and China's Cao Yupeng, the world number 81, who defeated Tom Ford - 56 places above him in the rankings - 10-9.
Other players to book their places at the Crucible following Sunday's matches were Liang Wenbo, who beat Marcus Campbell 10-9, and David Gilbert, who thrashed Fergal O'Brien 10-4.
Liu Chuang beat Jamie Cope 10-7, Barry Hawkins and Andrew Higginson completed 10-4 wins over David Morris and Peter Lines respectively, while in the final match Joe Perry beat Jamie Burnett 10-8.