China Open: Peter Ebdon beats Stephen Maguire in final thriller
Last updated on .From the section Snooker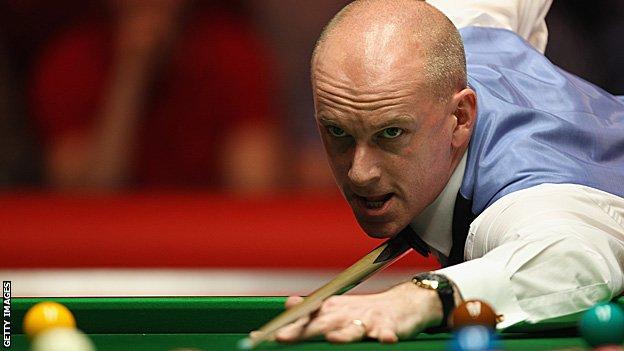 An "embarrassed" Peter Ebdon warmed up for his World Championship qualifying bid by winning the China Open.
Ebdon held off a plucky Stephen Maguire fightback in Monday's afternoon session in Beijing for a 10-9 triumph.
The 41-year-old raced into a 5-1 lead after dominating the opening session, but was pegged back to 8-8 by the Scot.
"To be honest, I feel a bit embarrassed because I did not handle the pressure well, and I feel that Stephen deserved to win," he told World Snooker.
"I am delighted to win, but disappointed with my performance and that I did not handle things better tonight.
"There is a part of me that feels very sorry for Stephen, because he made a tremendous comeback, and he was very strong.
"I felt deflated because I knew I did not handle myself very well out there."
Victory was the perfect tonic for 2002 world champion Ebdon ahead of his attempt to book his place at the Crucible later this month.
The current world number 28 must win a qualifying match on 15 April to return to the famous Sheffield venue.
And he will be boosted by a determined display where he upset the odds against world number nine Maguire.
The pair, both winners of the tournament in the past, traded blows in each of the final two frames before Ebdon finally clinched the eight-hour marathon match.
The Northamptonshire potter ended the hopes of home favourite Ding Junhui in the semi-finals and compiled two impressive century breaks in the opening session of the final to leave Maguire shell-shocked.
He racked up 107 to edge 2-1 ahead before 124 in the final morning frame left Maguire facing an uphill battle.
But he powered back to 8-8, setting up an exciting climax with a £75,000 winning prize up for grabs.
Ebdon refused to be deflated after losing seven of 10 frames and used all of his considerable experience to dig deep for a 103 break in the 17th frame.
Maguire took the match into the decider but after both players were guilty of missing opportunities, Ebdon held his nerve in a tense final frame.