Michael Holt has faith in Barry Hearn approach
Last updated on .From the section Snooker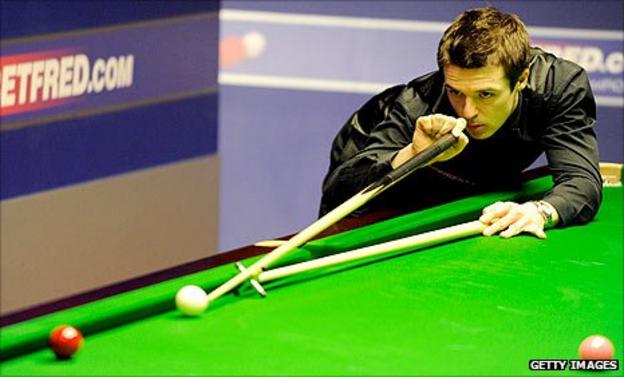 Michael Holt has backed World Snooker chairman Barry Hearn's decision to shorten the length of early-round matches in the UK Championship.
But Nottingham star Holt told BBC Radio Nottingham: "I was a bit sceptical at first but people want to see a result. Some of the matches have been great.
"It's working. The public want to see the drama of the last frame."
World number 38 Holt, who won the Players Tour Championship event in Sheffield last week, believes Hearn's appointment in June 2010 has been great for the game.
"On the whole he has done a really good," said 33-year-old Holt. "We are playing a lot more and 90% of the stuff he has done is positive and I think he has to be supported.
"I played the shoot-out in Blackpool in January and that was a fantastic event. These sort of events are good for the game.
"If it makes 10 new people watch the game then might get involved in the traditional game then it has to be good for the sport. I'm sure anyone who played in that will say it was as great event."
Hearn dismissed Allen's claim as that of a "silly boy".
And although Holt said he has misgivings about tinkering too much, he felt Hearn's attempts to "jazz up" the sport had to be applauded.
"The game two years ago was in a right state and we were hardly playing," Holt added.
"Now we are playing nearly every week which is what we want. Go back two years and it could be six weeks between tournaments."
But Holt is convinced the snooker's showpiece event, which builds up to a first to 18 frames final, should remain the same
"I don't think we should touch the World Championship," Holt added. "That is something that should stay the same. It gives it more prestige having to win more frames."