UK Snooker Championship: Allen says Hearn should resign
Last updated on .From the section Snooker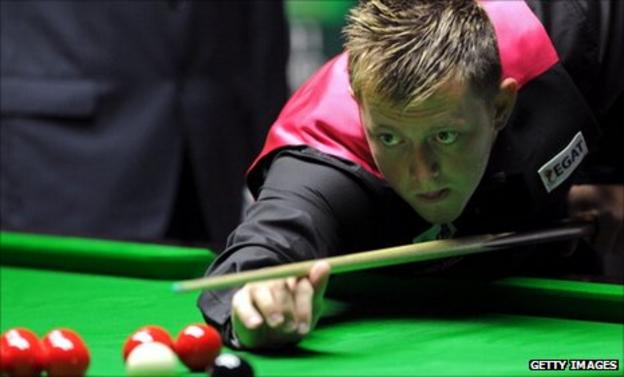 Mark Allen has called on World Snooker chairman Barry Hearn to resign.
Allen beat Adrian Gunnell 6-3 at the UK Championship to set up a second-round tie with Ali Carter.
But the world number 12 from Northern Ireland later expressed displeasure at Hearn's decision to cut early matches from best-of-17 frames to best-of-11.
"In the long run, he'll probably do good for snooker, but not for my generation," said Allen. "It's time to let someone else have a go."
He claimed Hearn, who took over as chairman in June 2010 after being voted in by a majority of the world's top 64 players, had pledged not to make changes to major tournaments.
The 25-year-old also said he was worried the World Championship could be the next tournament to be altered and believes snooker is starting to replicate darts - one of Hearn's other sports.
"When Barry came in, one of the first things he said was that the World Championship, UK and Masters wouldn't be touched. Only 18 months later, the UK format has changed," Allen said.
"I don't think he's pleasing too many players, but anyone who voted for him has only got themselves to blame. I wasn't one of them.
"I've got no doubt he'll tweak the World Championship. The whole tradition of the game is going to pot.
"It's not all about bringing people in to watch and have a good time, shouting and having a drink. He [Hearn] needs to get away from the darts factor. It's getting close to that."
World Snooker will review Allen's comments and say Hearn, who is out of the country but has previously defended the diluted format, could comment on Tuesday.
Reigning world champion John Higgins has also criticised the changes to the UK Championship but Mark Williams is backing Hearn.
The double world champion said he "couldn't be more opposite" to the stance taken by Allen and said he was "200% behind" Hearn.
The Welshman added: "I think he has done unbelievable, we should let him get on with it. I'd rather play 17 frames obviously, but things have got to change and he's the man to do it."