UK Snooker Championship: John Higgins unhappy with format
Last updated on .From the section Snooker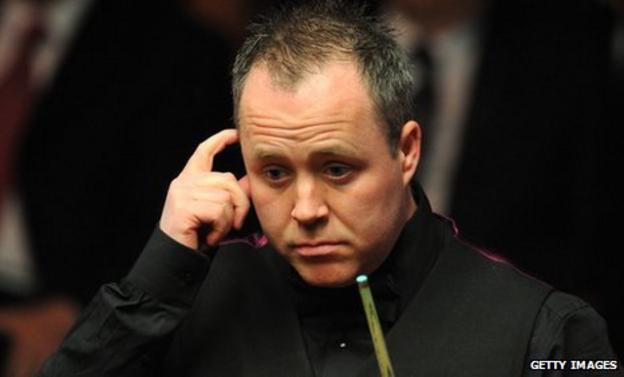 World champion John Higgins has criticised changes to the UK Championship format.
Matches have been reduced from best of 17 frames to best of 11 until the semi-finals of the tournament, which starts in York on Saturday.
Higgins said although World Snooker chairman Barry Hearn has done well, he is wrong to alter the second most prestigious ranking event.
"It's disappointing but Barry's decided to do it this way," said Higgins.
Higgins, who is also the defending UK champion, claimed Hearn had not consulted players about the changes.
"We don't want to be involved in the running of the game," added the 36-year-old Scot, who begins his bid for a fourth UK title against Rory McLeod on Saturday.
"We know he's a top man and should go ahead and run the sport as best as he sees fit. He's doing a great job of it.
"But little things like best of 17, he should have kept that definitely.
"You always associate the UK Championships with the best of 17.
"That it's been cut to 11 is very disappointing - especially after Barry mentioned he wasn't going to touch any of the majors.
"He has got his reasons for doing it, but I think the players should have been told of these changes or asked our opinions.
"But I suppose that's why he's in charge."
Meanwhile, Higgins is relieved to see seven-time word champion and fellow Scot Stephen Hendry playing at York.
Hendry has not won a ranking tournament in six years and has fallen out of the top 16.
He only qualified for a first-round match against Stephen Maguire by beating Northern Ireland's Gerard Greene in a qualifier three weeks ago.
"It wouldn't seem right if you came to a top event and Stephen wasn't playing at it," said Higgins.
"But he's made it through here and I really do think it could be the making of him.
"His pride obviously must have taken a bit of a dent because he's fallen outside the top 16, and that's maybe going to focus him again, to maybe come back to where he should be."
Higgins could play Hendry in the second round but he has to overcome McLeod first.
The pair met in the second round of the 2011 World Championships and McLeod's tactics of slowing the game down frustrated Higgins but the Scot emerged victorious 13-7.
"It is all about the tactical side of the game as well, and the mental side, which obviously with the pace sometimes he plays at he might be trying to get an advantage over some players," said Higgins.
"You've just got to get yourself focused for coming in against someone that's going to play a little bit slower than you're used to.
"If you don't keep yourself in the right frame of mind the match can easily unravel and get away from you.
The UK Championship returns this year to the Barbican Centre in York, its home from 2001 to 2006 before a four-year residence at Telford's International Centre.