Northern Ireland snooker referee Len Ganley dies
Last updated on .From the section Snooker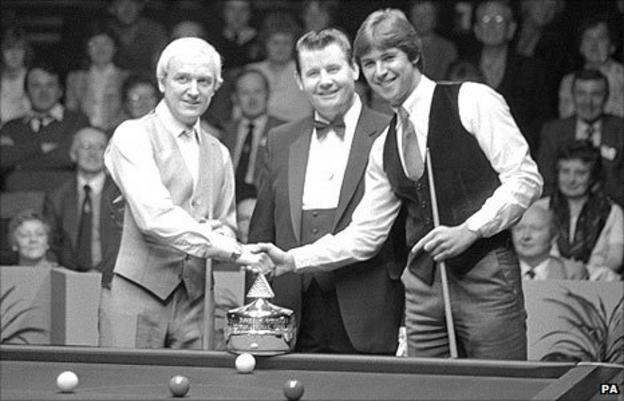 Len Ganley, the snooker referee from Northern Ireland who took charge of four World Championship finals, has died at the age of 68.
Ganley, who suffered from diabetes, died at home in Lurgan after his health deteriorated over recent weeks, World Snooker has announced.
The former milkman and bus driver became the best-known referee during snooker's boom years in the 1980s.
Ganley was awarded the MBE for charity work and services to snooker in 1994.
He officiated at world finals in 1983, 1987, 1990 and 1993 before retiring from refereering in 1999.
Six-times world champion Steve Davis, who included the 1983 and 1987 titles among his haul, paid tribute to Ganley.
Davis said: "Len did a very good job of being a referee and a personality at the same time.
"A referee is supposed to be unseen and he liked the limelight, but he still managed to do the job properly.
"He was a great character off the table, but in the arena he was an excellent referee.
"He knew the game as a player, having made century breaks himself, so when he was in charge of your match it was nice to know how well he understood the game."
Ganley's funeral will take place on Wednesday morning at St Paul's Chapel in Lurgan, with the family requesting donations to the Paul Hunter Foundation rather than flowers.