Chalking up Stephen Hendry's snooker achievements
By Phil Goodlad
BBC Scotland at The Crucible
Last updated on .From the section Snooker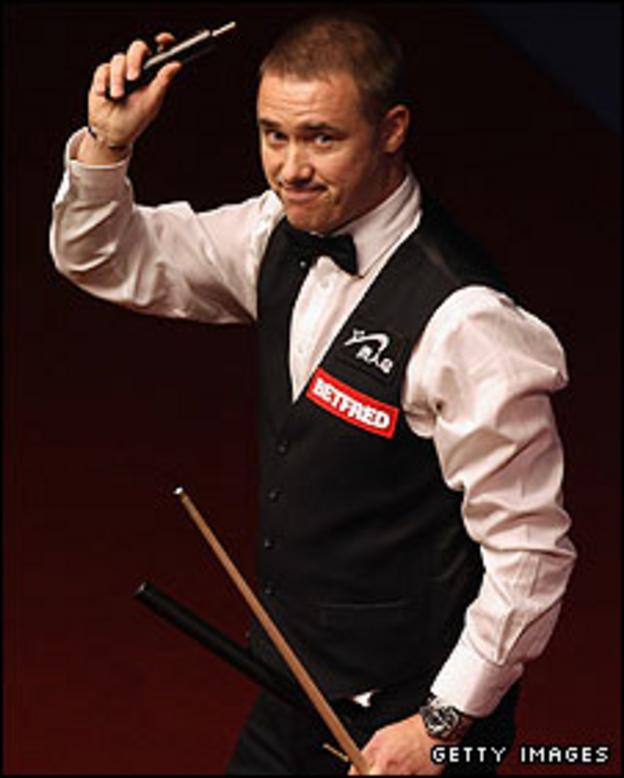 You would have thought he'd just won an eighth world title and not merely walked into the arena to face England's Mark Selby at the Crucible Theatre in Sheffield.
The reception afforded to Stephen Hendry told its own story. Snooker fans, like those who follow golf, can sense when history is on the cards.
And just like Tom Watson's stroll up the 18th at last year's Open in St Andrews, Hendry's walk to the table was not to be missed, because it could be his last.
Before his crushing 13-4 defeat by Selby, he said as much himself.
"I have a decision to make," revealed the seven-time champion.
"I've been in danger of dropping out of the top 16 all season.
"I won't play the PTC events next season so I will get punished in the rankings."
In snooker, dropping out the top 16 is akin to relegation; make it in and you're guaranteed automatic entry into the big tournaments.
Drop out and you then have to qualify by playing in small venues in front of small crowds.
It's not for Hendry - nor is the travelling involved in snooker these days.
New ranking events in Thailand, China and Brazil mean huge air miles just to protect that all-important top 16 spot.
"That's a young man's game," Hendry, the 42-year-old father-of-two declared.
Despite those claims, Hendry perhaps disclosed the real reason retirement could come in the next few weeks, adding: "I still have the game but not the belief.
"It's very difficult to keep coming here when you don't think you can win."
After dominating his sport by winning seven world titles, 36 ranking events and staying world number one for eight consecutive years in the 1990s, not believing he can win is torture for Hendry. He is the ultimate winner.
"He's one of the reasons I got into snooker," Selby announced after perhaps retiring his former hero.
Fellow Scot John Higgins echoed those sentiments after his win over Rory McLeod, and many of today's players will concur.
So what will Hendry do if his cue is packed away for good?
"I'll stay in snooker, it's all I know," said Hendry, who will join the BBC television team on Thursday when the semi-finals get under way.
A permanent seat in the commentary box is one option but whatever he decides to do in future, one debate is now in full swing: is he the greatest sportsman that Scotland has ever produced?
A strong case can be made for Hendry, given his achievements in the sport. His legacy adds weight to the argument.
Sir Jackie Stewart also created a legacy that lives on in motorsport, while Sir Chris Hoy is aiming for yet more Olympic golds in London next year, a phenomenal achievement.
But seven world titles, prize money at nearly £9m and a near-decade-long domination of a sport.
It's quite an argument in his favour.
If it is the end, then so long Stephen Hendry. And thanks for the memories.