Mark Allen gets backing from golf star Rory McIlroy
Last updated on .From the section Snooker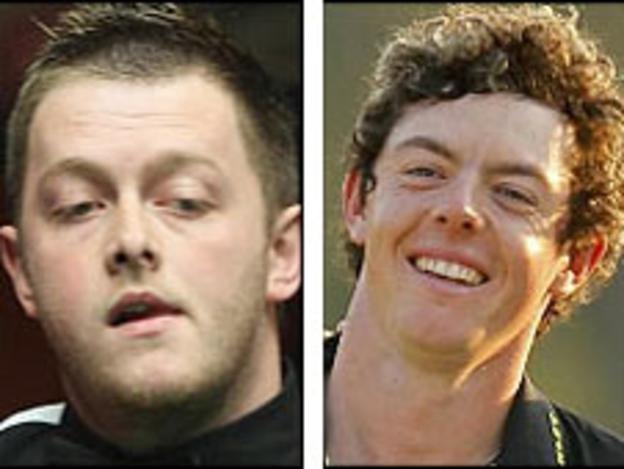 Golf star Rory McIlroy congratulated fellow Northern Irishman Mark Allen after he won the final four frames to beat Matthew Stevens in the World Championship.
McIlroy, whose recently missed out on the Masters title, twittered that he was following Allen's progress on TV.
Allen responded to McIlroy after the game, saying "Cheers for your support Rors".
McIlroy replied: "No worries mate! Great win! Keep it going!"
"Thanks mate, will try my best," Allen wrote back.
The Antrim player came from 9-6 behind to defeat Matthew Stevens 10-9 on an emotional night at the Crucible, clinching victory as his four-year-old daughter Lauren watched on from the front row.
He is battling depression and had "no interest whatsoever" in snooker during the past couple of months while he attempted to deal with his off-table problems.
But former semi-finalist Allen was full of cheer last night after knocking out Welshman Stevens, and was delighted to learn that Holywood golfer McIlroy was following his match.
"Cheering you on everytime you tee it up! Nice of you to do the same for me. Cheers mate," Allen said to McIlroy.
Allen celebrated with friends and family after his first-round success, which came about thanks to a switch in tactics.
The 25-year-old elected to be more attacking, almost gung-ho, and the approach paid off as Stevens' lead crumbled.
Allen is hoping his life can improve on a professional and personal basis, but warns he should be considered a long shot for the title in Sheffield.
"The last few months have been hard on and off the table - my private life hasn't been great but I'm fighting to get that better," he said.
"I know when I get that better my snooker will improve as well. It's a bit of a bonus to be in the second round.
"But I'm in the second round and I can improve now. It's amazing what a win can do."