Jen McIntosh: Former Commonwealth champion retires from shooting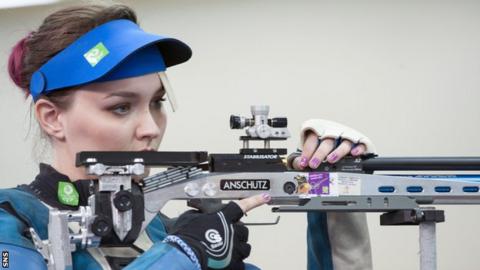 Jen McIntosh has retired "with mixed emotions" from shooting.
The Scot, 27, won eight gold medals across European Championships, Commonwealth Championships and Commonwealth Games events.
But shooting will not feature at the next Commonwealth Games in 2022.
"Over time, circumstances change and we have to reconsider what it is we really want from life and if the cost of chasing a dream is truly worth it," she said in a statement via Twitter.
"For me the price has become too steep and the rewards no longer high enough in value to warrant paying it.
"Hard as it may be, it is time to call it a day."
'I'd be lying if I said I had achieved all I ever wanted'
McIntosh's mother, Shirley, was a four-time Commonwealth Games medallist and sister Seonaid also competes for Great Britain and Scotland.
The siblings helped Great Britain win bronze in the 50m team rifle prone event at the World Championships in South Korea this month and Seonaid, 22, won gold in the 50m rifle prone.
Jen McIntosh, who has two bronze and one silver Commonwealth Games medals, thanked "everyone who has supported me in my journey".
And she added: "This has been an incredibly difficult decision to make, but was actually taken some time ago and is in no way a reflection on recent performances or results.
"The circumstances surrounding my retirement are perhaps not what I would have chosen, they are what they are and I am confident that I have made the right call.
"I have achieved a huge amount over the last ten years and I am incredibly proud of all I have accomplished, but I would be lying if I said I had achieved all I ever wanted. I'm not even sure I managed to accomplish all of what I was capable, nor fulfil the potential I believed I had."