World Shotgun Championships: Ed Ling wins silver for Great Britain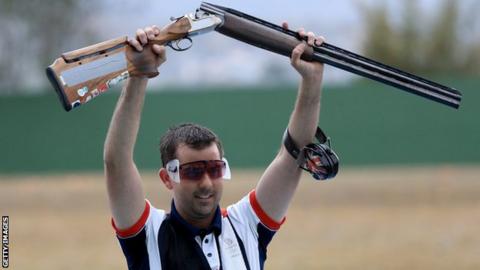 Rio Olympic bronze medallist Ed Ling won trap silver at the World Shotgun Championships in Moscow.
The 34-year-old British shooter hit 40 clays from 50 attempts to finish behind Italy's Daniele Resca, who achieved 43 to secure a maiden world title.
Jiri Liptak of the Czech Republic took bronze.
The 2017 silver is the second individual world medal of Ling's career - adding to his second-place finish in 2014.
He also secured bronze as part of the team trap event in 2011.
Ling famously cut short his celebrations in Rio to return home and help his father bring in the harvest at the family farm near Taunton last year.
"It's a great feeling to have won silver in the World Championships," said Ling.
"It's been great out here in Moscow and I'd like to thank British Shooting, UK Sport and the National Lottery for the support they've given me to help me get to this position."
Fellow Rio Olympian and 2015 European Games gold medallist Amber Hill will compete in the women's skeet event from Thursday.