Women's World Curling Championship: Scotland fail to reach play-offs
Last updated on .From the section Winter Sports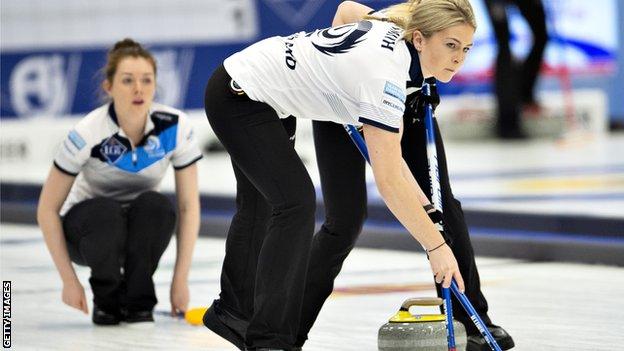 Scotland cannot reach the play-offs at the Women's World Curling Championship in Denmark after defeat to the USA.
Sophie Jackson's rink have now lost seven of their 11 matches and are destined to finish outside the top six after the round-robin stage.
The Scots led 4-3 but lost six in a disastrous seventh end as the USA went on to prevail 9-7.
Making their debut at this level, Team Jackson will finish a disappointing campaign against South Korea.
Scotland's last opponents have already secured qualification, along with Sweden and Russia, who both beat the Scots on Thursday.
Standings after session 18 of 20
Q Sweden 10-1
Q Korea 8-3
Q Russia 8-3
Switzerland 7-3
China 7-4
United States 6-5
Canada 5-6
Japan 5-5
Germany 4-6
Scotland 4-7
Denmark 3-8
Finland 2-9
Latvia 1-10