Camanachd Cup: If you've won it, you are somebody - Gary Innes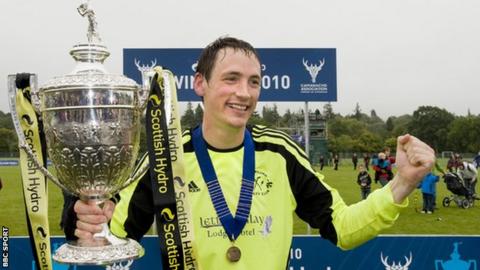 2018 Camanachd Cup final: Newtonmore v Lovat
Venue: Mossfield Stadium, Oban Date: Saturday 15 September Throw-up: 14:00 BST
Coverage: BBC Two Scotland, 13:45
"If you've got a Camanachd Cup final under your belt, you are somebody."
That's the view of five-time winner Gary Innes, who has stressed that getting their hands on shinty's most sought after trophy is every player's dream.
"You can't honestly explain just how much it means to you," he told BBC Scotland.
"Since primary school, when most of us pick the stick up for the first time, that's your goal in life, you aren't worrying about being a footballer or a pop star, you just want to lift the Camanachd Cup.
"From these little villages across the Highlands, Islands and the central belt, every single player will have grown up and that will have been their number one desire."
The former Fort William player picked up every accolade in the sport before retiring in 2014.
While he reached eight finals, leading the Fort to victory against Kilmallie as captain, goalscorer and man of the match is hard to beat.
Now he gives BBC Scotland his analysis from the sidelines and says this weekend's final between 32-time winners Newtonmore and Lovat will be particularly exciting.
'The Real Madrid of shinty'
The Lillywhites fought valiantly against the mighty Badenoch side in last year's Camanachd Cup decider, clawing two goals back to level before More settled things with a late winner.
"Lovat will have hurt for a long time after that, especially after being in the driving seat for most of the game," Innes said.
"Newtonmore are so calculated, they know what they're doing - they're like a Real Madrid or a Barcelona, they are quite happy to lose for 90 minutes as long as they do it in the last few minutes of injury time.
"Every one of the players on the field for them feels very capable of doing that.
"Newtonmore and maybe Kyles are the only clubs where the boys feel like, when they're losing, they aren't really beaten until the final whistle."
Having claimed the title more than any other side in shinty, Newtonmore may be favourites going into the game at Mossfield Park, but the former Scotland player warned that there has been a recent shift away from shinty's powerhouses.
Innes added that the underdog label does not quite suit 2015 winners Lovat given they are nipping at their opponents heels in the final few fixtures of the Premiership and their last encounter ended goalless.
"There's no question that Lovat players will be losing more sleep than Newtonmore players ahead of the Camanachd Cup final on Saturday and that's just down to experience," he said.
"The Newtonmore players are more seasoned, it's not that it's not a big occasion, but they're used to being in the position at the top of the sport.
"Newtonmore were dealt a blow when Fraser MacIntosh broke his collar bone last week and he's one of their best forwards and a huge player on and off the field, a very charismatic player.
"It's all about the wee things and Lovat will use that."
The captains' views
Newtonmore's Andy MacKintosh: "I didn't play last year as I'd done my knee, so it's new territory for me this year.
"It would mean everything. It's what you dream of growing up is to be captain of Newtonmore never mind the reality of going into a Scottish final leading the boys.
"The main thing now is to get that cup above my head with the team.
"Both defences are solid and forwards are equally as deadly, so it could go either way, but it's good for shinty that things are so tight.
"We need two more points to win [the league]. To be in the final and already have a cup [MacTavish] in the bag can only be good for us."
Lovat's Lewis Tawse: "For any captain, it means everything, it's the biggest trophy in shinty.
"We play each other so often on these stages, semi-finals and finals, but we know on our day we can beat Newtonmore.
"We lost last year, but we won [in 2015]. So we know what it's like to lose. but we also know how it feels to win - and that will take over.
"We're playing well, scoring goals and a lot of players are putting in good performances and playing well.
"We feel we're one of the best teams in the league and it shows with us being back here again.
"We have to stop a few of their main players and get ours on the ball."