Trump, TripAdvisor & table tennis - Gavin Rumgay's four days in North Korea
Last updated on .From the section Scotland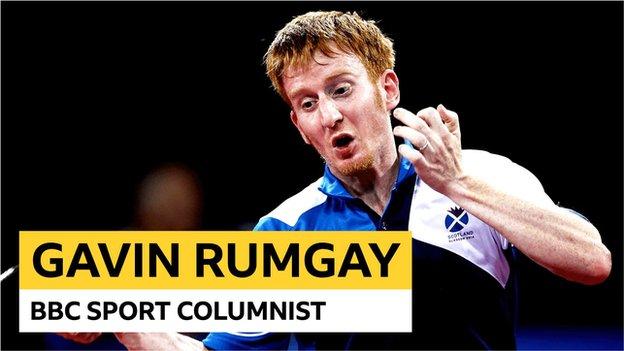 Gavin Rumgay has a plan. It has taken him from North Korea to Nigeria this summer and is overtly cynical.
Scotland's leading table tennis player is targeting the World Tour events his competitors don't want to go to in a focused attempt to climb the world rankings.
The 34-year-old, who beat both the Murray brothers during his youth tennis career, has been to four Commonwealth Games, is ranked in the top 10 of the world in the spin-off sport of 'ping pong' and has risen from around the 300 mark up to 136th in the past few months, thanks to adding some of these less glamorous tournaments to his schedule.
In the first of a series of pieces for BBC Sport Scotland, Perth-native Rumgay recounts collecting a North Korean visa at a foreboding house, how Donald Trump impacted on his plans and paying for flights with wedges of cash.
Tracksuits, Rolls Royces & visas - 9 June
No other British players fancied going to Pyongyang and, as it turned out, no other Europeans did either. The ones I spoke to were fretting about safety, the increasing tensions between North Korea and the United States and problems acquiring a visa. With the latter, they may have a point…
To get a visa, I had to buy one from the North Korean Consulate in London. Getting an appointment was easy enough, but then it all became a little alarming. I arrived in good time at the address in Ealing but it turned out it was a mid-sized, detached house, with closed gates and two stylish Rolls Royce parked in front. Odd. Standing outside on the pavement, I was having a job trying to look suitably important while wearing my tracksuit and carrying a rucksack.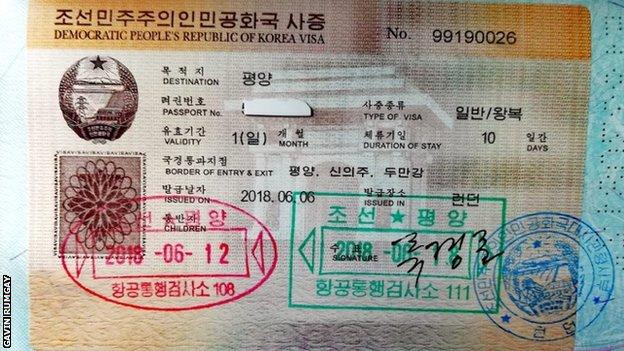 I rang the bell at the gate. No answer. And again. Same outcome. Then I saw a buzzer. Same drill. No answer. Minutes passed, then a hugely-imposing Korean man appeared. He glared at me, walked forward and grunted "passport". I nervously passed him my documents and he demanded £90 in cash, which I gave him, and he turned and walked back inside.
So there I was on a narrow pavement beside a very busy main road in London at 0900. Would I ever see this man again? Would I get my passport back? And what about my £90? Five minutes passed. Then 10. Then 20. Then, after half an hour, he finally returned, smiling and proudly brandishing the North Korean visa that had been added to my passport. Happy days. Now for a 13-hour trip east…
Trump, TripAdvisor & £530 cash - 12 June
It wasn't until US President Donald Trump pulled out of his much-heralded talks with Kim Jong-un that I realised I was going to be in North Korea at the same time as the summit. My nerves were heightened a little, let's say. My hotel had reasonable reviews on TripAdvisor, so that was all fine, but no agents in the UK would sell me a flight to Pyongyang. Instead, the North Korean table tennis president had to buy a ticket for me.
So while the world was scrambling to decipher the Trump-Kim denuclearisation deal, I was scrambling around Beijing Airport trying to locate Air Koryo, the state-owned national airline of North Korea. Once again, I'd need cash. The eye-watering sum of $675 US (£530) was needed this time to pay for my flight to Sunan International airport in Pyongyang. Pretty steep for a return journey that is the equivalent of going from Glasgow to London.
Photos, archery lessons & 30p pints - 16 June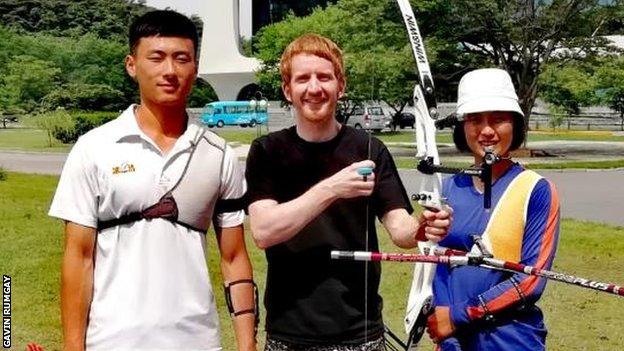 After all that, I lost 4-1 in the last 16 to a North Korean in a brutal 50-minute match. Still, that meant I had two days to explore Pyongyang.
The first thing that struck me was how fresh the air is. US-enforced sanctions mean oil expenditure is very low and people walk or cycle to work, so traffic was scarce. In keeping with that, the people seemed friendly and quiet and live very simple lives, with grandparents taking their grandchildren to school.
I had read that you can't take photos of unfinished buildings or capture any signs of poverty but that turned out to be nonsense. I was encouraged to take pictures of anything and everything by my translator, including the Mansu Hill Grand Monuments of the deceased supreme leaders Kim Il-sung and his son Kim Jong-il. Fascinating stuff. I even managed to sample some of the local beer, which had a pleasant kick for 30p a pint.
Finally, to round off a brilliant trip, I somehow ended up getting an archery lesson with one of the girls from the North Korean national team. These Olympians shoot from a standard range of 70m. I'd be lucky to see an articulated lorry from that range. Still, I proudly hit the bullseye from a whopping five metres, which is an improvement on my only previous effort 20 years ago as a kid in Perthshire, when I almost took out a deer hiding in the woods.
Anyway, my next stop on the World Tour was Africa. And it was to prove equally eye-opening…