Camanachd Cup: Kingussie keen to set up Newtonmore final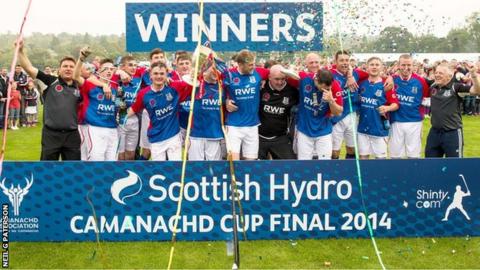 Camanachd Cup semi-finals: Lovat v Kingussie
Venue: Bught Park, Inverness Date: Saturday, 11 August Throw-up: 16:00 BST
Coverage: Watch on BBC Alba
They were once named the world's most successful sporting team by Guinness World Records. They fielded the 'Ronaldo of the Glens', won 20 consecutive league titles and spent four years unbeaten.
But over the past decade, Kingussie's crown has slipped. They last won the title in 2009, as near neighbours Newtonmore settled in for seven years of league success.
Saturday offers a chance for the Kings to redress some of the balance, though. Victory over Lovat in the semi-finals of the Camanachd Cup would set up a showpiece meeting with their fiercest rivals.
For some, such a game cannot come too soon.
"The people in the village are the same people who witnessed our dominance for that 20-25 years and impatient for us to return to that to some degree," said Kingussie manager John Gibson.
"But that's tempered by the fact that we've had a change of generation of players, none from that period remain. We're starting again with a very young team and that's the basis of our inconsistency."
Why so much success along the Spey?
Kingussie can boast 23 Camanachd Cup titles, 27 MacTavish Cup wins and 23 MacAulay Cup triumphs. Newtonmore sit at 32, 42 and 11, respectively.
And while Kyles Athletic and, more recently, Lovat have claimed moderate success of their own, the Badenoch sides - who sit just three miles apart - have long been giants of the sport.
"It goes back to the family roots and people keeping the game going," said Gibson, who played alongside fellow Kingussie greats Ronald Ross and Kevin Thain during their glory days.
"We've got very small catchment areas and, if you do have a number of years where you don't produce any players, it does take a long time for that to come back round again.
"Newtonmore have had that, and we've had that. But there's enough shinty in the blood, so you just have to wait for the players to dominate again."
The sport, which is much like hockey but the ball can be played in the air and with both sides of the stick, lives mostly in rural parts of the Highlands and Islands.
It is at the heart of communities who are immensely proud of their shinty heritage, they rally around their teams, and that is something Gibson believes is vital to long-term success.
"We have ex-players coaching or are active in the club as presidents, committee members or coming down to line the pitch and cut the grass, and ladies taking turns running the cafe at the weekend," he said.
"There's more people active in the club than we've ever had. Everything going on off the pitch is hopefully pointing to success on it."
Are the top teams in decline?
In 2017, Kinlochshiel clinched the Premiership, with Kyles Athletic and Lovat their nearest challengers. All three remain in contention again this season.
The latter Kiltarlity side claimed the Camanachd crown in 2015, and pushed Newtonmore close again last year.
"It's a far more level playing field than it used to be," said Gibson. "There aren't the real gulfs in class between teams.
"In the top 10-15 anybody can beat anybody on their day - but I wouldn't say the standard has improved, more a coming together of teams with those at the top maybe slightly in decline."
Kingussie manager Gibson conceded the shake-up of Badenoch's monopoly over the game does make it more competitive, though.
"It's great for the neutrals, not so great for the heart rates of those coaching, but it makes for a great spectacle and it does keep the interest," he said.
"Everyone has a chance of getting to a semi-final or even a cup final so there's not the same inevitability about the winner. They get shared around more. "
Derby a chance to put Kings back on top?
Kingussie's most recent accolade was the 2014 Camanachd Cup, but the village's celebrations were short lived as their team plummeted, narrowly avoiding relegation to the National League the following year.
It was a harsh reality check for the former giants, who have not finished higher than fifth since and currently occupy sixth after 13 of 18 fixtures.
"The biggest problem we have is inconsistency," said Gibson, who claimed every honour as a player, including seven Camanachd titles between 1995 and 2014.
"We know we've not had a great run of form but we know we're capable of challenging the teams at the top."
The Kings beat 'More 1-0 early in the season, before losing 2-0 this month. But, like in all good sporting rivalries, form only counts for so much when pride and bragging rights are up for grabs.
"Our results against them are always important, they're always big games and if it so happens it's a Camanachd Cup final, then it just amplifies that," said Gibson, who concedes his side are underdogs.
"It would be a massive game to look forward to for the club, for the village and for Badenoch as a whole."