Shinty: Newtonmore beat Kinlochshiel in MacTavish Cup final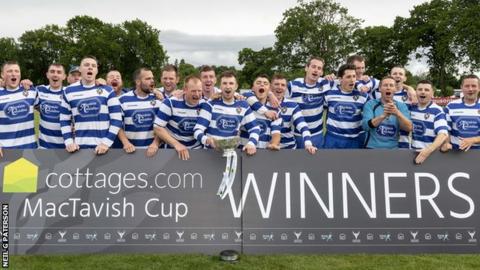 Newtonmore extended their record number of successes in the MacTavish Cup to 42 with a 2-1 victory over Kinlochshiel in the final at Bught Park, Inverness.
What turned out to be the winner early in the second half from Iain Robinson denied league champions Shiel their first success in the 120-year-old North area championship.
Both sides also got a boost to their league prospects when the other leading contenders Lovat lost 4-3 at home to Lochaber.
Kyles swept lower league side Oban Celtic aside 8-0 to reach the south semi final of the Artemis MacAulay Cup and Kilmallie beat Inveraray 4-0 in their Tulloch Camanachd Cup second round replay.
Robinson showed his hunger for a goal early in the final when he sent a shot just over the bar. Meanwhile at the other end, Oliver MacRae, one of five members of that clan in the Kinlochshiel starting 12, was denied by Newtomore's 48-year-old goalkeeper Kenny Ross.
Just after the half hour Shiel got the breakthrough when Keith MacRae pounced on an incompletely cleared shot, which had been parried by Ross, and slipped in the opener at the right post.
There was little to choose between the deft stickwork of the west coast side and the more robust approach of the stronger-looking defending champions from Badenoch, although Kinlochshiel goalkeeper Scott Kennedy had to pull off two great saves late in the first half.
Then, exactly on 45 minutes, Evan Menzies scored a spectacular equaliser from long range to send the sides in level at the interval.
The second half was only nine minutes old when Robinson dashed in to tap in a winner not dissimilar to MacRae's opener, at the same right post.
Shiel responded with good efforts from John MacRae, Jordan Fraser and Keith MacRae who were all denied, before another fine save by Kennedy from Menzies.
At the death, Shiel also spurned the opportunity of a free hit and Keith MacRae also struck an inviting ball across goal, but Newtonmore held on for a third successive victory.
In the Marine Harvest Premiership at Balgate, Marc MacLachlan in the first half and Greg Matheson in the second had Lovat apparently on easy street - but only for one minute before Shaun Nicolson brought it back to 2-1. Pat Toal drew Lochaber level before three late goals in a minute - two for the visiting side - decided the issue. Connor Sweeny gave Lochaber the lead, Matheson equalised and seconds later Nicolson struck Lochaber's winner.
Roddy MacDonald, Grant Irvine and Thomas Whyte all scored doubles and Ross MacRae and Robbie MacLeod got one each as Kyles put Celtic to the sword in the MacAulay Cup. They will now meet Oban Camanachd who had a walk over against Ballachulish.
In the Camanachd Cup, Kyles will now be the quarter final visitors for Kilmallie after Michael Rodgers got two in their defeat of Inveraray.
While, on the cricket field, Scotland just managed to pip England at their own national sport, when the roles were reversed in the Bullogh Cup, lower league Strachur club side beat English Shinty by by a whopping 21-0 scoreline.