Promotion would 'mean everything' for Highland League Cove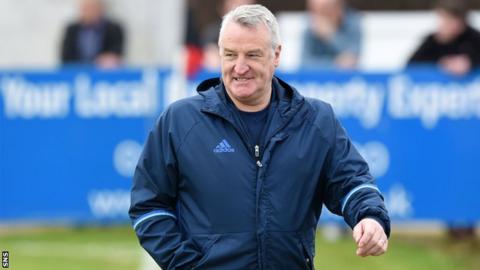 Joining Scotland's professional football ranks would mean everything to Cove Rangers, says manager John Sheran.
The Highland League team face Cowdenbeath for the League Two semi-final play-off second leg on Saturday after a goalless first encounter.
"We've all had that desire and aim since the early 2000s," he said.
"We've tried a couple of times through applications and didn't get in, but this time we've got an opportunity to do it on the field which feels better."
He added that it would great for Aberdeen to have two teams playing within the SPFL, with Cove Bay being a southern suburb of the Granite City.
Since joining the senior league in 1986, the Wee Rangers have enjoyed championship and trophy success at their level and become a formidable lower league force in the Scottish Cup, making it as far as the fourth round.
But this ambitious north east team have long since set their sights higher.
The club twice applied, unsuccessfully, to join the Scottish Football League prior to the introduction of the pyramid system in 2014/15, including when Gretna relinquished their league status in 2008.
Undeterred, the Highland League champions relinquished their home ground of Allan Park, and have played three seasons out of Inverurie Locos, Formartine United and Banks O'Dee while a stadium with adequate capacity was developed.
Sheran hopes the removal of that final obstacle means they can follow the trail other northern teams have blazed before them.
"Montrose going up [to League One] this year, Peterhead came close and Elgin weren't far in the play-offs," he explained.
"And while Caley Thistle and Ross County are not at the heights they were previously, it's great for the north of Scotland generally to have so many teams pushing forward in the SPFL."
But Sheran admits it is not an easy feat.
"It's difficult in the sense you've got to battle through your own league, then go up against the Lowland league teams, which is hard in its own right because that's a strong league as well.
"But then you've still to play-off against the bottom team. I think there's probably a feeling that relegation for that team would be a better position."
"[The Highland League], particularly the top eight teams, are very competitive but you've got different standards, different locations geography wise that mean it's hard for certain teams to get players and finances are tight for some.
"I certainly feel the top half could compete with the lower end of League Two."
But few have shown interest in making that leap. In fact when Brora Rangers became the first to earn the right in 2015 they said 'no thanks'.
With stadium capacity, finances and the challenges of Scotland-wide travel for games few are willing or able to progress.
"Geography plays a big part for teams like Brora and so I can understand these teams not being so keen on it," added the former Montrose and Peterhead boss who believes for others promotion is a "step too far".
"We're lucky in the sense we are in Aberdeen and in the south of the city so the right place to head south to play games which is a little easier.
"For us it's something we definitely want to do."
That intention could not have been made clearer as Sheran's team notched up 125 goals this season, with Cove striker Mitch Meggison alone netting 50 - more than double their play-off opponent Cowdenbeath's season tally.
And with their new Balmoral Stadium opening in the summer with a game against neighbours Aberdeen, what better time to make the step up.
"It would be nice if the two things could coincide, the club have been trying to get into the Scottish leagues for a number of years now so would be good if it could all come together.
"We find ourselves facing 90 minutes hard, hard graft against Cowdenbeath - but we believe we can do it.
"Little bit disappointed after Saturday, as we had a number chances and their keeper made a number of saves, but we look forward to Saturday with confidence."
And while they are all too aware the Blue Brazil will be fighting to retain their place Cove feel should their long awaited ambitions come to pass, they are ready.
"We feel as though we have players who can play at that level. Yes we would need to add a few to strengthen the team and it would be an adjustment to playing tough games every week.
"There are some easier games in the Highland League which there wouldn't be in League Two, but we've competed against a few teams in the Scottish League over the last two or three years so we feel we can get a squad together that will allow us to compete.
"We're not even thinking about that at this stage - all we're thinking about is the 90 minutes on Saturday, we can't get ahead of ourselves as Cowdenbeath will be fighting for their lives as well."