Scottish FA & SPFL merger not likely, says Andrew McKinlay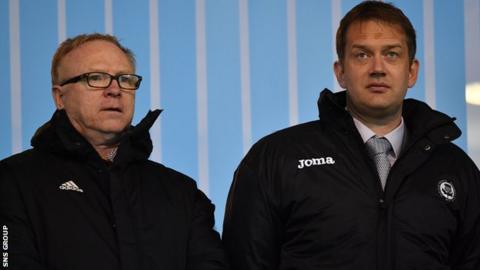 The Scottish FA is unlikely to unite with the Scottish Professional Football League, says departing interim chief executive Andrew McKinlay.
Ross County chairman Roy MacGregor was among those calling for one governing body in Scotland.
That came in the wake of Stewart Regan's departure from the SFA.
"I don't think they will merge," said McKinlay, who temporarily took over from Regan before completing a switch to Scottish Golf.
Partick Thistle managing director Ian Maxwell is taking over the SFA chief executive role, having served on the board of both football bodies.
Maxwell's place on the SFA board has gone to SPFL chief executive Neil Doncaster.
"The working relationship with SPFL is hugely important," said McKinlay, who served the SFA for six years.
"That relationship was a lot stronger than people thought it was.
"They have got very different things to do. The league is there to run the league. The Scottish FA has a wider remit for the wider game.
"I think they can work more closely together. There are certain areas where there will be synergies, but they definitely have different things to look after."
Regan, who was in the position for eight years, left after failing to recruit Michael O'Neill as Scotland manager.
But McKinlay had no designs on taking on the job long-term, telling BBC Scotland: "It was known that I'd decided to leave. That was just a coincidence of timing.
"With Ian coming in, I think they are going on to exciting times."
Scottish golf 'needs consensus'
McKinlay, who was the SFA's director of governance before becoming chief operating officer, is now looking forward to a "new challenge" with Scottish Golf.
A declining club membership recently voted against a proposal to increase the annual affiliation fee from £11.25 to £15, which will lead to a reduction in spending.
"We're a members organisation and I want to go out and understand what they think the issues are," McKinlay said.
"What do they want from Scottish Golf? What can we give to them?
"We need to give greater clarity on what Scottish Golf is there for, but we are only going to get harmony through consensus."