SRU make case for Murrayfield replacing Hampden as national stadium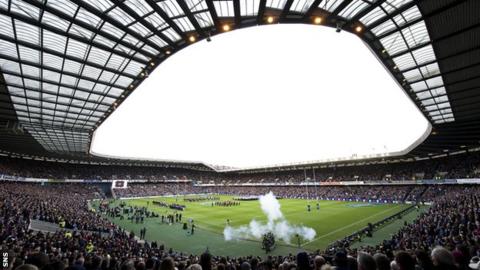 Murrayfield should become the new home of Scottish football because it is the "largest and best stadium in Scotland," according to the Scottish Rugby Union.
The Scottish FA is considering a move away from Hampden and will decide between the current national stadium and Murrayfield this summer.
Football fans are being given a tour of the home of rugby today.
And SRU chief operating officer Dominic McKay insists the venue has a "number of unique selling points".
"We are the largest and I would suggest the best stadium in Scotland," McKay added. "We have 67,000 seats available which gives the SFA an opportunity to generate more income and we would like to add our marketing muscle to the SFA's marketing muscle to try and sell out as many of their international games as possible."
"We want to be great partners and I want to give the SFA a really tough decision. We think we have an outstanding facility, an outstanding ability for the SFA to generate record sums and reinvest that at all levels. It will be a tough decision for sure."
The SFA's 20-year lease on Hampden, which has Scotland matches since 1906, expires in 2020, with a renewal option.
The governing body commissioned a feasibility study to consider all of its options for moving away from the national stadium.
In March, Hampden owners Queen's Park agreed in principle to sell the stadium to the SFA.