Liverpool's Andy Robertson 'now worth £40m' - Mark Lawrenson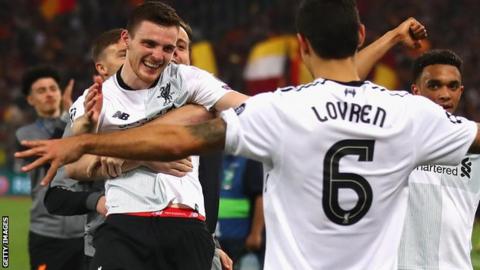 Scotland full-back Andy Robertson has become a £40m player after a fabulous first season with Liverpool, according to former Anfield hero Mark Lawrenson.
Despite a 4-2 second-leg defeat to Roma on Wednesday, the Reds progressed to the Champions League final and a date with holders Real Madrid on 26 May.
Robertson, 24, played in both legs of the semi-final and in the quarter-final success against Manchester City.
"I cannot remember a poor game from him," Lawrenson told BBC Scotland.
"What was it - £8.5m [initial £8m] or something [they paid for him]? He is probably times that by five at the moment."
Robertson is now in line to become the first Scot to play in a Champions League final since Paul Lambert won the trophy with Borussia Dortmund in 1997.
Only five years ago, he was playing with the amateurs of Queen's Park in the bottom tier of the Scottish senior set-up.
Having progressed to Dundee United, then Hull City, Robertson moved to Anfield last summer but did not establish himself in manager Jurgen Klopp's plans immediately.
He did not feature in any of Liverpool's group stage matches, making his first European outing in a 5-0 away win at Porto in the last 16.
Lawrenson, who won the European Cup with Liverpool in 1984, added: "People in the game said to me, 'He is great going forward, but defensively against the top teams, I am not sure.'
"I tell you what, no-one has taken him apart as yet. The quality of his passing and crossing is outstanding.
"He is an extremely fit individual; he just looks like a player that doesn't give a problem to the manager and gets on with it.
"He has done absolutely brilliantly. We saw a brief glimpse of him at the start of the season and then he disappeared.
"I think a lot of outsiders were thinking 'Crikey, maybe the manager doesn't fancy him now he has brought him in?' 'Did the manager actually see him play?' everybody was asking.
"[Alberto] Moreno started really well but got injured, and then Andy Robertson was thrown in."
He has been a first team regular since early December, missing just four league matches - with three of those to keep him fresh for the Champions League's latter stages.
Under contract until 2021, with the option of a further year, Robertson is being tipped by some to become a Liverpool legend.
"Your first season when you arrive on the scene, it is probably easy, you don't even think about what you are doing," said Lawrenson
"He has got all the tools. We will probably have a better indication at the end of next season. I always judge a player over two years.
"Sometimes they come in and have a great first season, and the second season is maybe not quite as good. That is when you really decide if they are going to be a great, or just a very, very good player. But very, very good at Liverpool is totally acceptable."