Ross Murdoch eyes another famous win in front of home fans at Euro Championships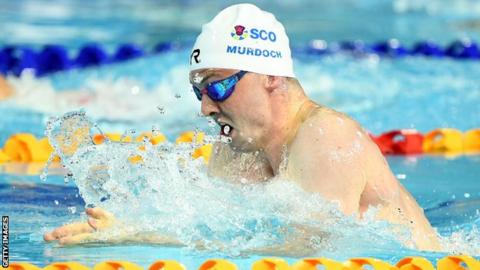 Swimmer Ross Murdoch says it would mean the world to him to win in front of a home crowd again at the European Championships in Glasgow this summer.
With 100 days to go until the multi-sport event, Murdoch is relishing the prospect of a return to the Tollcross pool where he won Commonwealth gold in the 200m breaststroke in 2014.
He took silver at Gold Coast 2018 and is looking to star in home water again.
"It's going to be fantastic to be back out racing in Glasgow," Murdoch said.
"That's the next big thing for us, so I absolutely cannot wait for that.
"I've got such fond memories of Glasgow 2014, the Commonwealth Games and how good an event that was, and this is the biggest event to come to Glasgow since then, so I can't wait to be a part of it.
"It's such a unique opportunity. I've been so lucky to represent my country at a bunch of different meets on home soil."
Glasgow will host six sports - including aquatics, cycling, golf and gymnastics - with the athletics competition being staged in Berlin.
The swimming meet will take place at the Tollcross International Swimming Centre, the scene of Murdoch's triumph four years ago that thrust him into the spotlight.
"Tollcross is such an intimate venue, I have such fond memories of all the supporters," the 24-year-old said.
"I've had many athletes come back to me and tell me how good the support was in Glasgow - from other nations as well, not just Scotland."
And as he focuses his preparations on the championships in August, Murdoch is determined to make another memory to treasure at the Tollcross venue.
"To do it again would probably be the ultimate," he added. "Out of all the highlights of my career so far, winning the gold in Glasgow was probably the highlight.
"I don't think anything so far has touched that, so to do it again would mean the world to me."