Kimberley Renicks: 'I'm fighting like I was in 2014' says Scottish judoka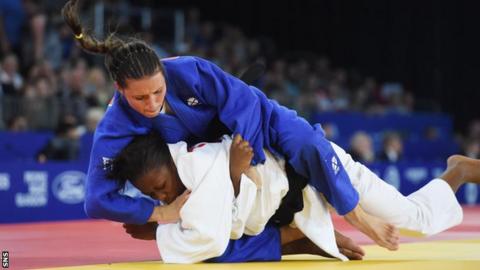 Scottish judoka Kimberley Renicks is determined to prove she is an international contender again at the European Championships in Israel this week.
Renicks was the first Scot to top the podium at the Glasgow 2014 Commonwealth Games when she won the -48kg event, but injury robbed her of the chance to compete at the Olympic Games in 2016.
After undergoing shoulder surgery, the 30-year-old moved to Camberley in England to train, and is in no doubt that it was the right call.
"I had to make that hard decision to come away from all my family and give it everything for a couple years," Renicks told BBC Scotland.
"First couple months it was hard - in the first few events I didn't do well and went out in first and second rounds and I was feeling like I was ever going to get back to where I was.
"At the end of last year I started hitting my form, placing at bigger events then won British trials to get back in team and prove that I was number one.
"It's given me a boost having been out two years and getting my spot back. I feel like I'm now fighting the way I was in 2014."
Renicks finished fifth at 2017 Grand Prix events in Cancun, Tunis and Tblisi. GB selection followed and the judoka is heading to Israel for her first European Championships since 2013.
She will fight in the lightest weight category of under 48kg, and added: "A lot of the European countries are in the top 10 countries in the world in my weight, so it will be a hard competition to medal in."
Renicks is one of three Scots competing in the 12-strong GB team, with Olympic bronze medallist Sally Conway (-70kg) and debutant Stuart McWatt (-81kg) also heading to Tel Aviv.
A fourth, Sarah Adlington, had to withdraw due to family commitments.
Renicks' golden moment at Glasgow 2014 was quickly followed by her sister Louise topping the podium in the -52kg event.
"It was a special, rare moment as a judo player to fight for your home nation - no matter what colour of medal it's a really proud moment to say you did this for Scotland," Kimberley added.
And having watched Team Scotland take their second largest medal haul at the Gold Coast Commonwealth Games - the highest overall tally at an away games - she says it was "gutting" that judo was not included on the programme.
"You did think if we had got anything like the 13 medals we won last time then the medal tally could have been similar to what we had in Glasgow," she reasoned.
"Quite a few people, our medallists, retired so it would have been nice for some of the younger ones to experience it."
Renicks knows the sport received a boost after the success of Glasgow 2014, with a number of girls beginning to come through in the UK as a result.
With that in mind, she is not ruling out another games at Birmingham 2022, but does have an even bigger goal in her sights before that.
"The aim is to qualify for the Tokyo [2020] Olympics and see how the body is feeling, and if it can go another two years," she said.
"Euan Burton, Sarah Clark and others like my sister were slightly older than what I would be at the next [Commonwealth Games] though and they were still competing.
Determined her age and injury setback will not hinder her, the judoka is now focused on improving her world ranking and insists the European Championships are the ideal opportunity to gain valuable ranking points.
"When I came back from injury I was 88th in the world - the last year-and-a-half as my fighting has got better I've got myself back into the top 35 and my aim is get into top 25," said Renicks, currently ranked 34th.
"I'm just taking it an event at a time - after Europeans it's straight to Japan and then China to fight and that's the start of qualifying for the World Championships."