Scottish ice hockey: Dundee Stars keep heat on Braehead in play-off race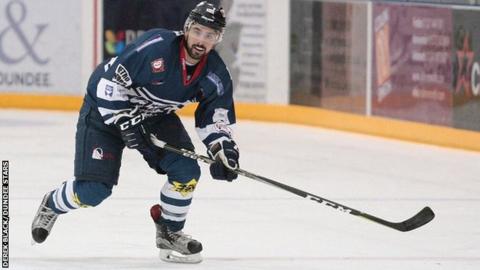 Dundee Stars coach Omar Pacha revealed a period-break rollicking helped get his team back on track as their play-off quest looked in doubt.
After Saturday's home loss to Coventry Blaze, they were two down to Milton Keynes Lightning on Sunday after the first 20 minutes.
Pacha says he intervened with some home truths, which led to a 9-4 turnaround to keep them within two points of that coveted eighth place, occupied by Braehead Clan.
"It was a really frank conversation I had with the players after the first period and told them a few true facts and reminded them this is our season right now," said Pacha.
"We're not playing the right way, is the polite way to put it and it was the worst period of hockey I'd seen. Fair play to the guys though, they stepped up and responded really well.
"It was the one time that I felt they needed a hard talk and they worked hard, supported each other and we got rewarded for it in the end.
"You go through ups and downs in a season and four wins out of five is great for us."
Stars are still in there as the race for the top eight intensifies, with two weeks of the regular season to go.
Friday's 4-1 win at Fife Flyers kicked off a three-game weekend and they were one down after the first, with Carlo Finucci netting.
Dundee upped their game and claimed the points against the under-strength Flyers through Anthony Mastrodicasa, Jimmy Jensen, Gabriel Levesque and Malcolm Gould.
Pacha's men returned home to face Coventry Blaze, but a 4-2 loss saw Blaze go above them into ninth.
Blaze went two up through Marc-Olvier Vallerand and Dax Lauwers, before Stars levelled through Brian Hart and Emerson Hrynyk. Ben Lake scored twice late on for Coventry.
On Sunday, MK Lightning came calling and after they went two up through Tommy Mele and Denny Kearney, Pacha delivered his verbal rocket.
From there, Stars turned it on and six goals in the second period put them out of sight, before another three confirmed a massive result.
Braehead Clan helped themselves to five points from six this week as they stay ahead of Blaze and the Stars in the top-eight race.
They followed up Wednesday's 7-2 win over Edinburgh Capitals with a 5-3 road win at Belfast Giants on Saturday for their third straight win.
Colin Shields' opener for Belfast was cancelled out by Brendan Brooks, before Tyler Shattock and Cameron Burt put Clan 3-1 ahead after two periods.
Jacob Doty added a fourth, but Giants clawed their way back through Sebastien Sylvestre and Brendan Connolly before Shattock's second secured two points for Braehead.
Clan returned home to face second place Manchester Storm on Sunday and despite going the distance, ended up going 3-2 after overtime.
Dane Byers for Storm and Braehead's Michal Gutwald cancelled netted for either team before Linden Springer and Robbie Lepine did the same to end regulation time at 2-2.
It needed Luke Moffatt to score the clincher with 18 seconds to go of overtime to confirm a win for Manchester coach Ryan Finnerty, back in his old stomping ground at Braehead.
Storm hosted Fife Flyers the night before as the Kirkcaldy club went to Altrincham for the second game of their three-game stretch.
However, after going 2-0 up through Chase Schaber and Jim Jorgensen, Storm turned it around through Dane Byers, Mike Hammond and Scott Pitt to claim the points.
Fife ended the weekend at Edinburgh Capitals on Sunday and had something to cheer about with two points to show for their efforts, winning 8-5 at Murrayfield.
Doubles from Schaber and Shayne Stockton helped get them those points, despite Edinburgh finding the net including two from Dylan Anderson.
From a Caps point of view, it was a decent reaction to Saturday's 8-0 whitewash at Cardiff Devils although the outcome was the same as they continue to build on their meagre 11-point tally.
WEEKEND RESULTS
Friday
Fife Flyers 1-4 Dundee Stars
Saturday
Belfast Giants 3-5 Braehead Clan
Cardiff Devils 8-0 Edinburgh Capitals
Dundee Stars 2-4 Coventry Blaze
Manchester Storm 3-2 Fife Flyers
Sunday
Braehead Clan 2-3 Manchester Storm OT
Dundee Stars 9-4 Milton Keynes Lightning
Edinburgh Capitals 5-8 Fife Flyers