Scottish cyclist John Archibald says sister's success lead him to victory
By Amy MacBeath
BBC Sport Scotland
Last updated on .From the section Scotland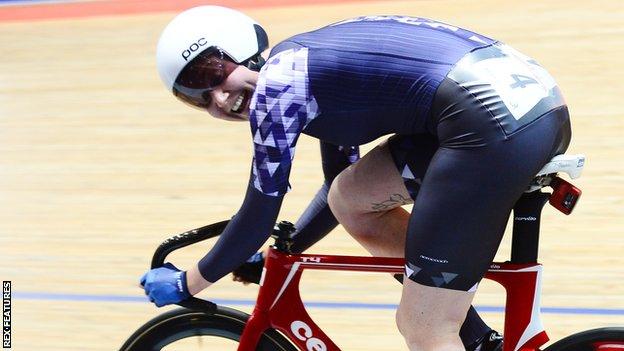 Having only swapped the road for the track last summer, Scottish cyclist John Archibald is already following sister Katie to the top of the sport.
The siblings from Milngavie took seven medals between them at the National Championships in Manchester at the weekend.
And 26-year-old John Archibald admitted watching his Olympic gold medallist sister power to victory spurred him on.
"I had watched Katie's scratch race before I started mine and she won it in such a thrilling sprint finish that the whole crowd was buzzing, everyone in the track centre was buzzing so it was an adrenaline rush before I'd even sat on the bike," he said.
"I started that points race all buoyed up and ready to go," added Archibald, whose bold attack earned him a 20-point lap gain and a spot at the top of the leaderboard.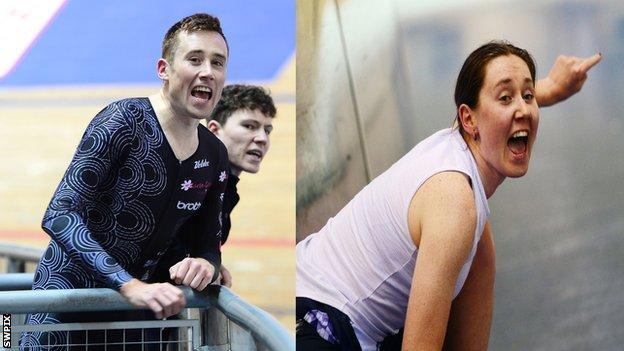 Both Archibalds were spotted trackside roaring each other on, and for John that support made all the difference.
"I could hear the crowd surging every time I went round and I could hear Katie and actually see her on the trackside, as well as team-mates from Scottish Cycling who I could hear cheering."
The Ribble Cycling athlete added: "You wouldn't think it makes a difference but it just gives you that adrenaline and you think, 'I have to dig in and push on here'.
As well as topping the podium, John beat compatriot Mark Stewart to take bronze in the men's individual pursuit and picked up another in the team pursuit as part of Team KGF.
Speaking to BBC Scotland, he said he was still in "total shock" at his win, not least because all the pressure was very much on the other Archibald competing. And she certainly delivered.
Two-time world champion Katie, 23, successfully defended all three of her British titles - points, scratch and individual pursuit - as well as finishing third in the sprint on day one.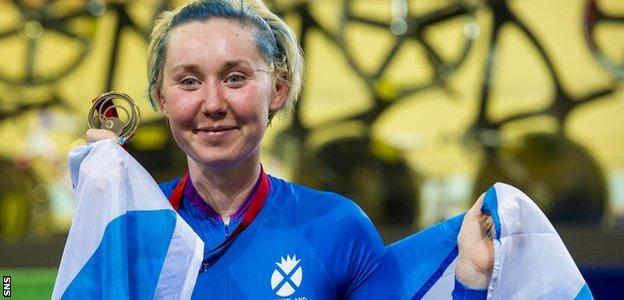 It is likely the family business selling beds will have to do without them both for a while - Archibald believes he might just have done enough to earn a call-up for Team Scotland when the Commonwealth Games announcement is made on 14 February.
"I've hopefully done enough to put my hat in the ring for it and looking forward to seeing where it goes," he said.
"Something miraculous might need to happen to make it a long-term career, but [I am] enjoying it for now and I'll see how long I can string it out for."
With the Gold Coast Games around the corner, the Archibalds are not the only Scots in form.
Paisley-born track sprinter Jack Carlin topped the podium twice in Manchester in the men's individual and team sprints, with Rio 2016 champion Callum Skinner second in the kilometre time trial.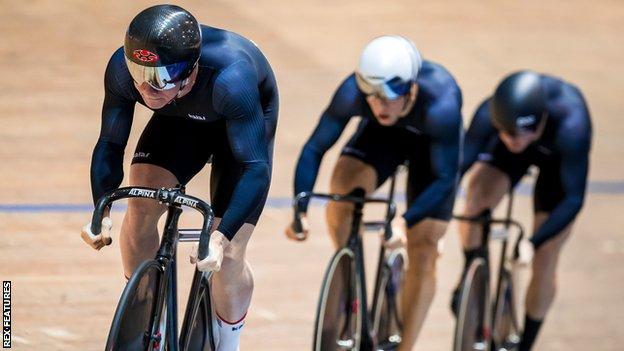 In Para-cycling, too, there was a silver for Laura Cluxton and Emma Baird in the BVI pursuit.
Archibald feels the medal tally and representation in Manchester is a reflection on the health of the sport in Scotland, largely thanks to the state-of-the-art velodrome named after the country's greatest track cycling export, Sir Chris Hoy.
"Some [of the athletes are] now based in Manchester on the British programme, but they only got there having access to a velodrome back home in Scotland, so that effect is going to pass through," John Archibald added.
"Certainly, the set-up Scotland has now is working wonders. Having access to a track and facilities, it's really fair game and we definitely proved that this weekend."