Scotland: Celtic boss Brendan Rodgers questions end-of-season friendlies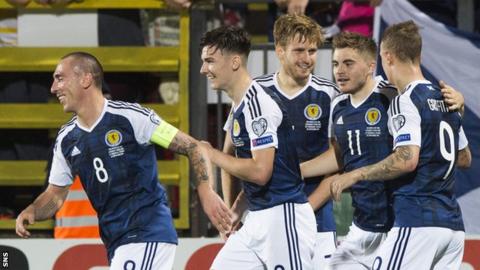 Manager Brendan Rodgers is calling for a "sensible decision" on Celtic players' involvement in Scotland's summer friendlies.
Scotland travel to play Peru on 29 May and Mexico on 2 June.
If Celtic win the Premiership again, Rodgers anticipates starting an extended Champions League qualification campaign on 10 or 11 July.
"Footballers are not machines, they are human beings and need that mental and physical recovery at times," he said.
"You don't want them to be broken and burnt out too early in their career because of the number of games."
Scott Brown, Craig Gordon, Kieran Tierney, Stuart Armstrong, James Forrest and Leigh Griffiths all featured regularly for Scotland last year, while Callum McGregor has been included in recent squads. Ryan Christie, on loan at Aberdeen, also made his Scotland debut in their friendly against the Netherlands in November.
BBC Scotland understands Celtic are writing to the Scottish FA for an explanation as to why matches have been scheduled at the end of the season in Peru and Mexico.
Rodgers says that Scottish football benefits from Celtic's participation in Europe.
"We hope to make it through to the Scottish Cup final, which takes you through to 19 May," he said.
"If you then have eight of your players at least going on a friendly tour to South America, I don't think it is helpful for Celtic.
"Players will play 60 games plus, plus international games, so that makes it extremely difficult, especially for the young players like Kieran Tierney who are starting out on their careers and have made great starts.
'Some of these players had six days off last year'
"But I also think it is for the wider scope of Scottish football. The team has the opportunity to qualify for the Champions League, they need every chance they can to qualify.
"One: for the national game, to show we can put a team into the elite club competition in European football, but also two: financially.
"The financial implications over the last couple of years, qualifying for the Champions League, is that each of the other (Scottish Premiership) clubs get a substantial amount of money for that and sometimes that is the most revenue that they get.
"So it is not just for Celtic. Of course, you look firstly within your club and the players, but you also have to take into consideration Scottish football, when you bring on a friendly campaign that far away at that time of the season.
"Some of these players had six days (off) last year, some had 10; the maximum the non-internationals had was three weeks, so to do that again, you are not giving yourself an opportunity."