Winter Paralympics 2018: Scott Meenagh on losing his legs and finding a purpose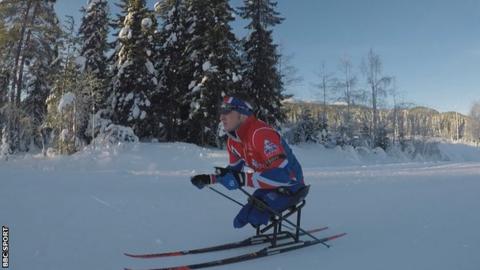 Seven years ago Scott Meenagh thought he had lost his purpose in life, his reason for getting out of bed in the morning.
Aged 21, he was a paratrooper serving in Afghanistan's Helmand Province when he stepped on an IED (improvised explosive device).
In that moment this promising young soldier lost both of his legs, as well as the friend and comrade who disobeyed direct orders and helped save his life.
Now, Meenagh says that sport has saved it all over again.
"I had this story of how I lost my legs looming over my shoulder everywhere I went, every newspaper article was about being a soldier and losing my legs," he said.
"The long and short of it was that was a bad day at work for us and I don't want it to define me for the rest of my life.
"Sport is what I've found that purpose, that reason and definition through. All of a sudden you find yourself in a world where people don't care how you got injured."
Having played rugby from a young age in Cumbernauld, the Scotland Under-18 player felt that duty called - he enlisted and became one of the few to graduate into the 2nd Battalion Parachute Regiment (2 Para).
"All I ever wanted to be before I was wounded was a soldier or a rugby player - two things I was hugely passionate about - and in a blink of an eye both of them were gone," he added.
Now, in snowy eastern Norway at the country's largest mountain resort Trysil, he is competing for his country as a nordic skier, with a place on the GB team for the Winter Paralympic Games in South Korea within his grasp; but he has been here before.
After a year of rehabilitation and learning to walk again with prosthetic limbs, he turned his hand to rowing and did so with a fair amount of success.
Meenagh captained the British Army team to multiple medals at the Invictus Games and more recently added two more silvers on the athletics track.
He topped the podium on his GB rowing team international debut and came agonisingly close to fulfilling his new ambition of becoming a Paralympian, four years earlier than hoped.
"I invested a lot. I truly put everything on the table and gave up my life to go to a Paralympic Games and narrowly missed out [for Rio 2016]," Meenagh said. "I know what it feels like to not go."
Cue his bid to reach Pyeongchang 2018.
Not content with waiting the full four years for another shot, the 28-year-old not only turned his hand to colder events but, unsurprisingly, one of the toughest disciplines around.
"I love the opportunity to put myself in a hole," says the man who has scaled Ben Nevis and become the first double amputee bungee jumper in Scotland.
"I like working hard, that power endurance element. Keeping concentration high so late in a race when you are really hurting is a skill which is hard to develop and keep, and that's what appeals to me - the fact that it's so challenging and you are never the finished article.
"This sport will always find a way to humble you," he joked, referring to the tumble he had taken in view of the BBC camera.
It has been 20 years since Britain has been a contender in the Para-nordic skiing.
Having seen for himself at the 2014 Sochi Games the strength, endurance and focus required for biathlon in particular, Meenagh was hooked.
"Coming into the sport of biathlon, a lot of people expect you to be really good at it because you were a soldier," explained the sit skier.
"Being ex-military you can always back yourself to have that extra gear when it matters - that's the biggest thing I've carried across, my ability to really strap in when it hurts."
Meenagh has been the main driver behind the development of a British team and is currently competing against team-mates Steve Arnold and Terry Ahrend for a place on the plane to South Korea. He will not know until 15 February if he has done enough.
"We were wounded at similar times, we learned to walk again together and we've gone through things far deeper and bigger than what we're on now," Meenagh said of Arnold.
"We've got a really strong friendship and spend every day getting the absolute best out of each other.
"A lot of the athletes at the start of my first season looked to be on another level but it's reassuring that I'm now looking at them as competitors.
"We're starting to tap on their shoulders, paint targets on backs of the big boys and… watch this space."