Scottish athlete Chris Bennett will not repeat Glasgow 2014 mistakes
Last updated on .From the section Scotland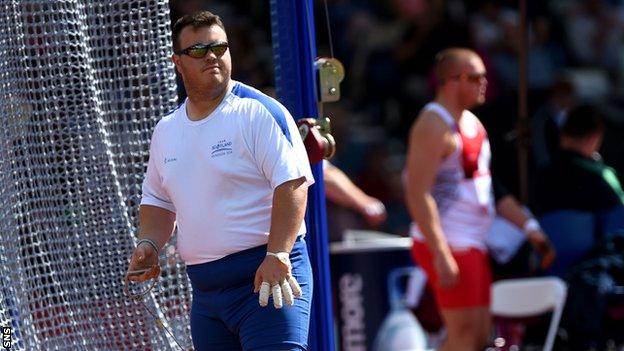 Hammer thrower Chris Bennett says he has learned from the mistakes he made at Glasgow 2014 as he targets a medal at the 2018 Commonwealth Games.
The Scot, 28, finished last in the final at Glasgow 2014, describing the event as the "best and worst experience of my life".
"I looked at it beforehand and thought 'I could win this' and before I got to the final I thought, 'I've won the Commonwealth Games'," Bennett said.
"The competition for me was terrible."
The Shettleston Harriers athlete was able to enjoy the "amazing" atmosphere at Glasgow 2014 but goes into the Gold Coast with a completely different mind-set, taking nothing for granted ahead of the competition starting.
"You need to go through the processes and if you do everything that you can and do it right on the day, then it goes how you want it," Bennett added.
And the Scot is using his 2014 disappointment as motivation for the 2018 edition, which will be held in April in Australia.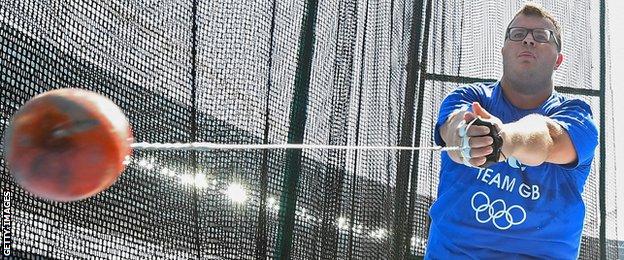 "Because Glasgow went so bad for me, it is fuel to the fire," he added. "It keeps me going through the winter so that it won't happen again.
"It has pushed me on to bigger and better things so this time I am thinking there is a realistic chance I could do something, but I have to almost keep myself under wraps and not put pressure on myself.
"I can't wait to get out there."
Bennett, who failed to reach the final of the hammer competition at the Rio 2016 Olympic Games, might have changed his preparations, but his targets for 2018 remain the same.
"I want a medal," he said. "I am not going to lie. Any colour would do me.
"I would be doing myself an injustice if I went to the Gold Coast and said I would be happy to finish sixth or seventh.
"I want a medal but like I said, there are things I need to do before that.
"You can't teach experience and getting the experience through the Commonwealth Games, World Championships and Olympic Games, you then become better and better."