Scotland U21s must learn from painful lapse - Scot Gemmill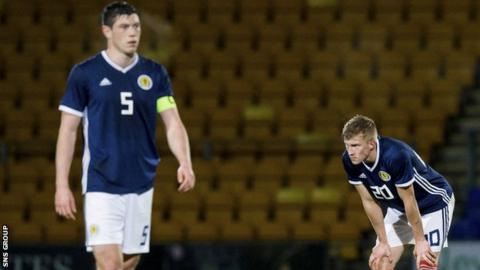 Scotland Under-21 manager Scot Gemmill hopes lessons can be learned from the Euro 2019 qualifying defeat to Ukraine.
The visitors scored goals in the dying seconds of both the first-half and second-half in Perth.
"The players know they need to show a bit more experience and understanding in the crucial seconds before half-time," Gemmill told BBC Scotland.
"At this level the speed of counter-attacks is key and every time you attack you need to be set defensively."
The hosts lost the ball cheaply before a swift attack and kind break of the ball helped Andriy Boryachuk score from close range.
"We were in comfortable possession and the players had been warned that it was the last seconds of the half," said Gemmill, whose side now sit fourth in the group with seven points from a possible 15.
"There was also the random nature of the ball ricocheting in the box.
"I thought there were a lot of good things in the performance. There wasn't a lot in the game, if you think about the goal we conceded right on half-time - that's obviously a real pivotal moment.
"I thought we contained Ukraine well in the first half and managed to create some very good chances."
'Still in the balance'
Viktor Kovalenko stroked in the second just before the final whistle.
"You have to ignore the last goal because we were pushing to get the equaliser," said Gemmill.
"I'd rather we lost lose 2-0 throwing everything to get the equaliser than lose 1-0 thinking we hadn't pushed harder."
Chris Cadden, Lewis Morgan and captain Scott McKenna had the best opportunities for Scotland, who haven't reached a European Under 21 Championship since 1996.
England, the Netherlands and Ukraine are all above Gemmill's men halfway through the campaign, with Scotland next in action away to Andorra in March.
"The group is still in the balance and we've got some great games to look forward to in 2018," he said.
"It'll be crucial to take maximum points from the two games with Andorra then try to come up with some performances against the higher seeds.
"Between now and then I'll go and watch the players and go and visit the clubs as well."
The nine group winners qualify directly for the tournament in Italy and San Marino, while the four best runners-up advance to play-offs for the final two places.