Josh Taylor ready to face 'trickiest opponent so far' in Miguel Vazquez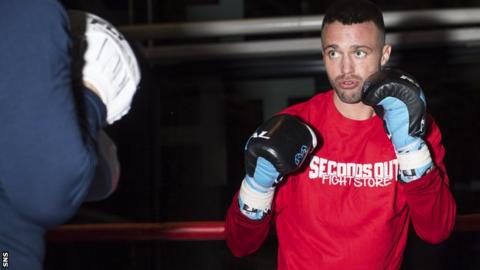 Josh Taylor says defeat to Miguel Vazquez would be a "major speed-bump" on the road to becoming world champion.
But regardless of the outcome of their bout on Saturday night in Edinburgh, the 26-year-old is convinced of his destiny - a belief shared by his promoter Barry McGuigan.
Taylor believes, though, that he will claim his 11th professional victory to retain the WBC Silver title.
"If the worst does happen, I'll still become world champion," Taylor said.
Nonetheless, the Prestonpans super lightweight refuses to look beyond Saturday's bout with the Mexican former IBF world lightweight champion towards the world title fights he believes await him.
"I'm totally focused on this fight because if I don't come through, it puts a major speed-bump in the way of my plans and dreams," he explained.
"I'm super-confident, super-relaxed. I feel in great shape, I've been in camp for 14 weeks just purely out of respect for Miguel Vazquez because I know how good a fighter he is.
"He's operated at the top level for a long time, so I know I have to be at my best."
Vazquez, who is fighting in Europe for the first time, was IBF lightweight champion for four years from 2010-2014 and only lost the belt in controversial circumstances to American Mickey Bey.
His record stands at 39 wins from 44 and though recent fights have brought victories over unremarkable countrymen, Taylor anticipates a serious test.
"He's going to be the trickiest opponent so far," said Taylor. "He's got experience in abundance.
"He's been with the guys at the top endless amounts of times and he's only lost to the guys at the very top, the elite-level fighters.
"I'm going to have to use every bit of my boxing ability and my boxing brain to come out on top. I'm young, hungry, fit, fast and strong. I punch harder than him and I believe I'm a better fighter.
"At some point his experience will come into play, but it's my time to shine."
Not so, says Vazquez, who has warned Taylor he'll have to wait to fulfil his dream.
"Yes he can be world champion but this time I want to be the champ," the 30-year-old told BBC Scotland. "He's young enough to go on to achieve great things.
"I believe my experience will help me win this fight. I want to be the best in the world, to fight in different places and to be a champion."
Vazquez admits he has not seen much of Scotland - "only the gym, the streets and the cold" - nor is he overly familiar with his opponent.
"I haven't seen many of his fights, but I know he's tough and it's going to be a great fight," he added. "I've come prepared to win."