Scotland still in it after dramatic late win over Slovakia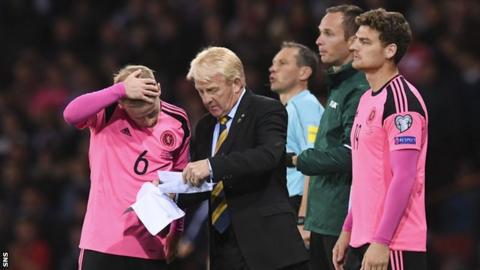 There came a point at Hampden on Thursday night, just after Chris Martin and Leigh Griffiths had hit the woodwork and just before Martin Dubravka had made what seemed like his 47th major save of the night, when the drama was so manic that it was like something you'd see on a big screen controlled by a director rather than in a big football stadium ruled by a referee.
The absurdity of what was going on was immense. Shots off the crossbar, shots saved, a clock ticking; a Scotland support cast into an oppressive, existential nightmare (again) the like of which Franz Kafka used to write about. Unpopular substitutions, a gathering storm ready to burst above Gordon Strachan's head, another missed chance, more tension, more dread and then, lo, a goal - the most magnificent fluke Hampden has seen in decades. Maybe ever.
Kafka checked out in the 1920s, but a little piece of his demented spirit lives on in the Tartan Army. He'd have loved it at Hampden. All that angst, all those people in torment. When James Morrison went through one-on-one with big Dubravka, the cat of Sparta Prague, and missed an opportunity that he had to - just had to - put away, the temptation was to lower the pen and pick up the phone to somebody better suited to describing this near fiction of a football match.
What would Irvine Welsh have produced on the whistle? It may not have been something you'd read to the children, but he would have been among the few who could have done it justice. There was, for sure, something hallucinatory about how it all ended. Did Scotland really do it? Was Dubravka finally beaten? By his own captain? When so many had given up hope?
Not the Scotland players. No, no. Griffiths reflected the spirit in microcosm. He was unrelenting. He almost got on the end of an Andrew Robertson cross early on, he delivered a beautiful ball to Christophe Berra who almost scored, he forced a save from Dubravka, then forced another, then he hit the crossbar, then he won the ball and fed Ikechi Anya in the build-up to the winner.
There is a presumption in places that once Moussa Dembele is fully fit and firing at Celtic he'll re-establish himself as Brendan Rodgers' leading striker. That's not paying proper heed to what Griffiths has been producing for quite some time now. He's gone from playing a total of 45 minutes in Scotland's opening three fixtures in this group to becoming a main man, a goal-scorer, goal-creator, a leader in his own, irrepressible, way. He's a wee rascal, yes. But he's a hell of a footballer.
Strachan got off to a grim beginning in this campaign, but this was his greatest night in the job by far. He made big calls with his starting team. He made big substitutions. When James Forrest made way for Martin on the hour, there were doubts. Forrest had been decent; Martin hadn't scored since Kafka died. Or March, if you want to be exact about it. Twenty-one games ago.
Then, James McArthur came on. You need a goal to keep your World Cup play-off hopes alive and you send on for a defensive midfielder from Crystal Palace? A club that right now conjures up images of barn doors and banjos? Next, Anya appears. Anya, who hasn't played in nearly a month, who has started one game all season and who hasn't scored in his last 33 matches? This is who you turn to in order to save the day?
And it works. It works. Scotland got lucky with the winner, but they got unlucky so many other times in the game that Slovakia had no legitimate reason to moan. Their coach, Jan Kozak, hinted at some kind of conspiracy in the aftermath. He started down that road but never got to the end. He dropped the thought midstream. Maybe he realised how ridiculous he was sounding.
Slovakia were undone by Robert Mak's stupidity in getting himself sent off and undone, finally, by a team who refused to accept a draw, a team that has developed a fantastic belief as they've made their way through this qualifying campaign.
An 89th-minute winner on Thursday, 87th-minute and 90th-minute goals against England in June, an 88th-minute winner against Slovenia in March and an 89th-minute equaliser this time last year against Lithuania. Eight points secured in the last three minutes in four different games. Whatever Scotland may lack, it's not stomach for the fight. And it's not momentum either.
They have now cruised from close to the back of the field into second place with one more game to play. They have found defensive solidity, confidence, resilience and the little bit of luck that all sides need. For those who didn't see this happening - and there's one right here - the revival is a revelation, but there's one last act to be played out in Ljubljana on Sunday evening.
And it's now the biggest one of all. Slovenia are as good as done for in the group, but life isn't so simple that they'll lie down on Sunday and allow Scotland to run all over them. Their home record is enough to make you gulp. Of their last 10 qualifiers in their own country they have won seven, drawn two and lost one.
Add to that their eight clean sheets in those 10 games. In four home games in this group they have yet to concede. In their six qualifiers before that, they lost one goal to Lithuania - a penalty - and three to England, the winner only coming four minutes from the end of the Euro 2016 qualifier. However good Hampden was, there is still huge danger that this thing will collapse around Scotland's ears on Sunday.
After nearly 20 years of failure, any Scotland supporter would be forgiven for looking at all this with joy and also suspicion. Fatalism runs deep. There is a 'too good to be true' dimension to the notion that Scotland are heading for the play-offs and then onwards to the World Cup.
A victory in Slovenia would make it five wins and a draw from their past six competitive games, though. Given the dog days of the home draw against Lithuania and the away shellacking at the hands of Slovakia that appeared to do mortal damage to Scotland's hopes, three more points and a shot at Russia though the play-offs would be the biggest act of escapology since Harry Houdini was manacled inside the sewn-up belly of a dead whale and came out smiling.
Success or failure? Belief or disbelief? It's hard to know what to feel ahead of Sunday. The senses have been well and truly scrambled.