Sammi Kinghorn second on half-marathon debut at Great North Run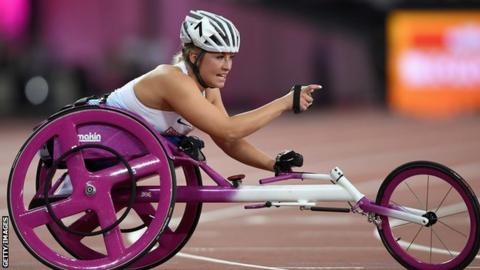 Scotland's Sammi Kinghorn impressed on her first half-marathon, finishing second in the women's wheelchair event at the Great North Run.
Switzerland's Manuela Schar set a new course record of 48 minutes 44 seconds, with Kinghorn behind her in 52:47.
The 21-year-old was a double sprint gold medal winner at July's World Para-athletics Championships.
She now has her sights on competing in the marathon at next year's Commonwealth Games in Australia.
Kinghorn won the T53 100m and 200m, along with bronze in the 400m, in London.
However, the Gold Coast 2018 programme only offers the marathon and 1500m.
She intends to race her first marathon in Chicago on 8 October.