Celtic take aim at Scottish FA with call for governance review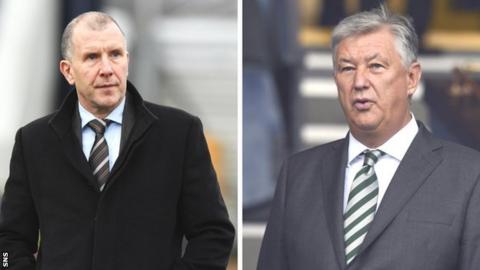 Agatha Christie's The Mousetrap opened in London's West End in 1952, played to tens of thousands of people up to Christie's death in 1976 and has played to tens of thousands of people ever since. It's the longest running theatre show in history, thriving after many of the people who have acted in it on the stage and who have watched it from the stalls have passed away.
The governance of Scottish football in the time of Rangers' implosion in 2012 is our own Mousetrap, a seemingly unending story, a commotion that can never have a conclusion to satisfy everyone. Christie's play takes all sorts of twists and turns but at least there's an understanding in the endgame. There's clarity when the curtain falls.
That's not going to happen here.
There are compelling reasons now to have an independent review of the way the game was governed back then, not just by Stewart Regan's Scottish FA but by Neil Doncaster's Scottish Premier League.
Strip away the ugly dogmatism, obsession and hysteria that is so commonplace on social media. Mystery remains about what went down. There's been conflicting testimony. There's been new claims, the veracity of which need to be tested.
Maybe there is nothing that should trouble us, but until you lift the bonnet and have a look then how does anybody know for sure?
The SFA have, of course, said no to the SPFL's request for a full independent review of their own governance in the Rangers saga. They say no good will come of raking over the coals. To those who want a review, 'raking over the coals' sounds terribly like 'brushing under the carpet'.
One side - the SFA - argue that fans will never be satisfied no matter the outcome of any review and that only harm will be done to the game if people don't move on.
The other side - championed by Celtic - say that this is not about satisfying people, it's about trying to mine fact from fiction and about learning lessons, if lessons are there to be learned.
There is a third side in all of this - a huge number of football fans around the country who see this purely as a political battle between Celtic and the SFA fuelled by a desire for the stripping of Rangers' titles in their EBT years. Those people switched off to this long ago. They don't see that it has anything to do with them. They couldn't care less.
An agenda for regime change?
The now published exchange of emails between Peter Lawwell, chief executive of Celtic, and Stewart Regan, his counterpart at the SFA, shine a light on what's been going on. Through his words, Lawwell reads like a man who will continue to hold the SFA's feet to the fire until he gets an independent review of all that went down in that era.
In his correspondence with Regan, Lawwell repeatedly says this is not so much about what Rangers did, or didn't do, but what the football authorities did, or didn't do, at that time.
There is no mention of title-stripping. His guns are firmly trained on the SFA. He says that this call for a review is for the good of the game, not for the good of Celtic. Given that Scottish football is a leading capital of suspicion and cynicism, people will have their own views of that.
Lawwell argues that unless the SFA agree to examine their governance then they will be accused of lacking "transparency, accountability and leadership." In that regard, he's talking directly about Regan and the decision-makers at Hampden.
Reading the material you get to wonder if regime change is his target here.
Celtic reject the view that this is little more than a Celtic versus Rangers issue that has precious little to do with anybody else. They argue that this thing is bigger than that. There is support among other clubs for that view, but how much support?
It's hard to tell. Celtic know that they have no legal recourse against the SFA's decision to turn down the invitation for an independent review, so the only avenue available to them is to try to galvanise the rest of Scottish football into piling the pressure on the SFA to do a U-turn.
They've got a mighty job on their hands.
This is a Scottish football spectacle and, as such, the plot is complex. Lawwell says that the SPFL request for an independent review of football governance in 2012 is "on behalf of the 42 professional clubs in Scotland". But is it? Do the clubs really want it?
Yes, it is the view of the SPFL board, who represent the clubs, that there should be a review, but all 42 professional clubs have not been asked for their thoughts. Some of those that have been asked by the media have said they don't agree with the call for a review.
'Why not throw open the files?'
They feel that the game could eat itself if it carries on like this forever. That rather undermines the mandate of the SPFL board.
One of the biggest clubs in the country, Aberdeen, are firmly against revisiting old ground and examining new ground. Kilmarnock , too. There are many others who don't back a review but who are unprepared to go public with their reasons why.
Celtic don't have sufficient allies to take this much further.
There is another point to be made here. The SFA won't have a review, but if the SPFL are so insistent that one is required then why not instigate an examination of the way their forerunner, the SPL, did their business in that period? If transparency is what they are about then let them call in the examiners.
All sides agree on two points. The first area of common ground is that there needs to be closure. The second is that not everyone is going to get to that point.
By turning down the request for a review, the SFA inevitably invite suspicion about why, exactly, they don't want football governance in that era examined by a properly independent review panel. If nothing untoward went on, then why not throw open the files?
That's a question that will be asked for as long as this story rumbles, which brings us back to Mousetrap. The blessed Agatha wasn't the only one who knew a thing or two about eternal dramas.