Callum Hawkins and Robbie Simpson named in GB marathon squad for World Champs
Last updated on .From the section Scotland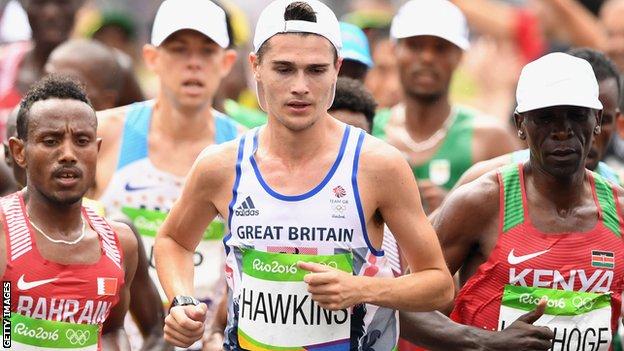 Olympian Callum Hawkins is one of two Scots named in Team GB's marathon squad for August's World Championships in London.
Hawkins was pre-selected for the squad last December, and the contingent of six is the largest since 1993.
"I don't think a lot of people expected me to make the team," said Simpson.
"Maybe I didn't think I could, but I knew if I ran a good tactical race [at the London Marathon], I would have a chance.
"It has been a goal of mine and I am really happy to have made the team. It hasn't really sunk in yet."
The World Championships begin in 100 days and the marathon runners will be part of the largest team assembled by British Athletics in more than 20 years
It is also only the third time in history, after 1983 and 1993, that British Athletics has selected six marathon runners to compete at a World Championships.
Hawkins, who finished ninth at the Rio Olympics, was the first athlete confirmed to represent British Athletics. The marathon will take place on Sunday 6 August.
"We are delighted to confirm that we have selected the maximum number of marathon runners for the World Championships in London," said British Athletics Performance Director Neil Black.
"But we're not just picking these athletes to make up the numbers. Even though he is young for this event, Callum has already proven he is a true world class marathoner.
"I expect all of these athletes to produce very competitive performances this summer, especially with the support of a home crowd behind them."
Marathon Men: Callum Hawkins, Josh Griffiths, Robbie Simpson
Marathon Women: Alyson Dixon, Charlotte Purdue, Tracy Barlow (Nick Anderson)
50km race walk: Dominic King