BBC Sport - Kilmarnock boss explains why he put a pitch on their dressing room floor.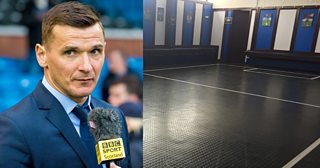 Killie boss puts pitch in dressing room
Kilmarnock's boss Lee McCulloch has come up with an unusual way of explaining half-time tactics to his team: turning the club's dressing room floor into a mini football pitch.
But speaking to Adrian Chiles, the interim manager said that it makes it a "squeeze" to fit all the players on the pitch.
This clip is originally from 5 live Daily on Tuesday 11 April 2017.