Katie Archibald waits for wrist fracture update after World Cup madison gold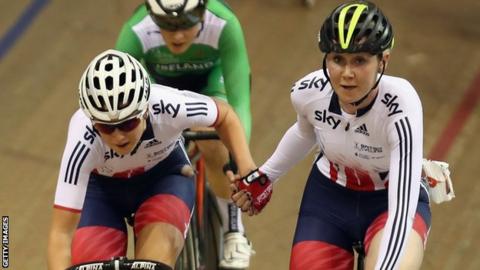 Katie Archibald is waiting to discover if she needs surgery after fracturing her wrist while winning madison gold at the Track Cycling World Cup.
The 22-year-old from Milngavie and partner Manon Lloyd overcame an early crash to win the inaugural women's event. in Glasgow on Saturday.
"The issue is that I have a metal plate from a previous break holding the radius together," Archibald explained.
"I don't understand it enough to panic so I'm keeping quite calm."
Archibald will miss next weekend's Scottish Nationals but is not sure how long her break from racing will be.
"I've fractured two little bones in my wrist - scaphoid and radius - so it's not ideal," she said.
"What I've been told is that it's a clean fracture, it's in line. We're seeing a specialist tomorrow to see whether it's needs surgery."
A noisy home crowd and adrenaline helped Archibald ride through the pain to collect gold but she admits to a frustrating error in judgement.
Describing the crash that came early in the race, she told BBC Scotland: "Going down I've put my hand out.
"I've seen a photograph and I was sort of kicking myself. Never put your hand out - you're always going to break your wrist and I've gone and done it. With crashing it's all about natural instincts. Tuck and roll is the normal plan of action!"
On picking herself up after the crash, Olympic team pursuit champion Archibald said: "Adrenaline just kicked in I think. We managed to come back and be aggressive, so yes pleased to have picked it up from there."
Archibald's preparations for Rio were disrupted by injury when she was involved in a motorbike crash which saw her rupture a posterior cruciate ligament and fracture her elbow.
The Scot followed her Olympic success with three medals at last month's European Championships.
"I was meant to be racing every weekend until Christmas," she added. "But looking on a positive it does mean that I can focus on training. It won't hold me off the turbo having a broken wrist. That's something you couldn't do mentally all round but if you're forced in to it it can be a blessing in disguise.
"If it does turn to surgery then it scunners some plans, but you always end up having an easier time over Christmas so I can trade in and out.
"This is the first time I've properly hurt myself on a bike that's man powered not machine powered - it's a bloody pain."