Laura Muir calls for lifetime doping bans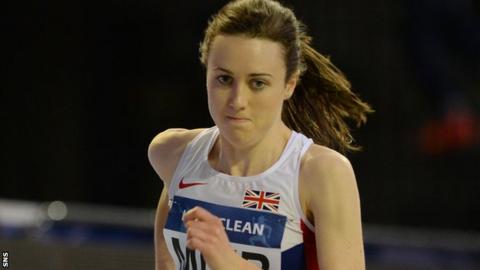 Olympic 1500m finalist Laura Muir has called for athletes who are caught doping to receive lifetime bans.
The 23-year-old, named Scottish Athlete of the Year at the weekend, does not agree with short-term suspensions.
"There are a lot of different circumstances under which people are caught," Muir admitted.
"But, in my eyes, you're caught, you're out. You shouldn't be given a second chance for them to come back and do it again."
Kenyan marathon runner Rita Jeptoo is the latest high-profile case and last week the 33-year-old had her two-year ban doubled after an IAAF appeal was upheld by the Court of Arbitration for Sport.
"It's the clean athletes that are losing out," Muir told BBC Scotland. "I feel like, if people are caught with drugs, if it's obvious that it's their fault and they've taken something they should be out the sport."
Muir admits there could be question marks over some Olympic performances after the World Anti-Doping Agency highlighted "serious failings" in the testing in Rio this summer.
"It's disappointing to hear that news, but I think athletics have come a big way this year with banning Russia from the Games," she said.
"I think we're making a lot of big steps forward and let's hope it continues.
"There will always be that question mark, but you can't judge people until there is the proof.
"I just know that I'm a clean athlete and I've got a clean conscience.
"You just try not to think about that at an Olympic Games. You're there competing at the pinnacle of your sport and I think you've just got to concentrate on your own performances."
Muir recalled being testing at the Olympics in Brazil.
"I was drug tested a couple of days after I went into the village," she said. "It was a complete surprise to me.
"I was drug tested and I know a lot of the girls I was racing against were, so I guess it just depends on the sports.
"I was quite surprised because I was drug tested and I knew a lot of people that had been as well.
"You just hope that they've learned from that and it will be better next time round."
Muir praised British Athletics' drug-testing programme while echoeing compatriot Eilish McColgan, who last week called for standardised testing in all countries.
"I get drug tested a lot," said Muir. "I get drug tested at home, at competitions, hotels, even B&B's when I was on placement.
"When I'm training, I'm tested an awful lot, which I think is great.
"That's what needs to be happening and you just want it to be more world spread."
Meanwhile, Muir said it was "a huge honour" to be named Scotland's top athlete of 2016, especially with "the likes of Eilidh Doyle winning an Olympic medal and Lynsey Sharp and Andrew Butchart breaking Scottish records as well".