Ice hockey: Braehead Clan's Gary Russell buoyed by win over Panthers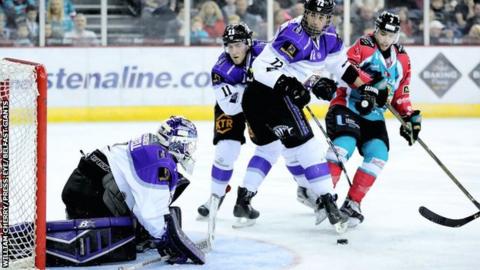 Braehead Clan netminder Gary Russell admits he feared it was going to be one of those nights when he faced Nottingham Panthers on Sunday.
They scored one and hit the post in the opening minute as another disappointing night for Braehead looked on the cards.
But a 5-2 win and a man-of-the-match award for the Scot later, deputising for the injured Michal Zajkowski, left him feeling they should have had two wins in the bag.
"After the first minute, I started to think it was going to be one of those nights where nothing was going to go right. It was a bad bounce off the board, next thing it was in," Russell said.
"It was one of those things, but the guys stepped up from there and we got three goals from the first period before going on to get the win.
"We played well in Belfast on Saturday and I felt we should have got a point at least. While we couldn't get the two wins, we got the one although we performed well over the two games."
Russell was outstanding as he kept the Panthers out on Sunday, ensuring the team go into next week's free weekend at least with a winning feeling.
In general though, Braehead Clan's indifferent season continued as they were beaten 3-2 at Belfast Giants on Saturday in another frustrating night.
Chris Higgins put the Giants in front six minutes into the game before Jonathan Boxill added a second not long before the end of the first period.
However, it kicked off a crazy couple of minutes as Craig Peacock pulled one back against his former side before Scott Pitt levelled things before the first break.
James Desmarais restored the lead five minutes after the restart to restore Belfast's lead, an advantage they never relinquished for the remainder of the game.
Braehead returned to Glasgow on Sunday with their last home game for five weeks as Nottingham Panthers came to town.
But Clan performed to take the 5-2 win in Glasgow, although Jeff Dimmen had the Panthers a goal up inside the first minute.
Braehead regrouped and grew into the game, with Cody Carlsson, Alex Leavitt and Matt Keith all finding the net by the end of the opening period.
Corey Cowick added a fourth and although Brad Moran pulled one back for the Panthers, Matt Beca finished the job with an empty net.
It was Panthers' second defeat of the weekend to a Scottish team, after going down 4-2 to Edinburgh Capitals the night before in their own barn.
Karel Hromas, Ian Schultz and Jacob Johnston had the Caps three up within the opening 10 minutes as Panthers failed to get out of first gear.
Mason Wilgosh added a fourth in the second period to effectively seal the game, catching them out on a breakaway to really pile misery on the home fans.
David Clarke pulled two back for the Panthers in the third, but could not derail a great night for the Capitals, who had only one fan there to witness an excellent result.
They came home to face Manchester Storm on Sunday, but couldn't replicate it as Omar Pacha's side won 4-1 at Murrayfield.
Despite Wilgosh opening the scoring, Trevor Johnson levelled before Mario Valery-Trebucco and two from Darian Dzuirzynski secured another road win for the Storm.
Fife Flyers and Dundee Stars met in a double header weekend that began well for the Kirkcaldy men, who came from behind in a 3-2 win on Saturday.
Brett Switzer scored on the powerplay to give Stars a second period lead, but the hosts turned things around as Ryan Dingle then Justin Fox struck to turn the game around.
Fox added his second and Flyers' third to effectively clinch the game, despite Matt White pulling one back for the Stars late on.
Both teams met again in Dundee on Sunday and Flyers made it a four point weekend with a 7-4 on Tayside.
Kevin Hart's opener for Dundee was turned around by goals from Phil Paquet and Sebastian Thinel, but Stars equalised through Mikael Lidhammar and Matt White.
Fife scorched ahead as Ryan Dingle, Chase Schaber and Matt Sisca opened up a 5-2 lead although Vinny Scarsella pulled one back.
But Kyle Haines and Justin Fox made it comfortable for the Flyers with two late goals to secure the second of two big wins.
Weekend results
Saturday
Elite League
Belfast Giants 3-2 Braehead Clan
Fife Flyers 3-2 Dundee Stars
Nottingham Panthers 2-4 Edinburgh Capitals
Sunday
Elite League
Braehead Clan 5-2 Nottingham Panthers
Dundee Stars 4-7 Fife Flyers
Edinburgh Capitals 1-4 Manchester Storm