Scottish cross country relays: Callum Hawkins & Andy Butchart run for clubs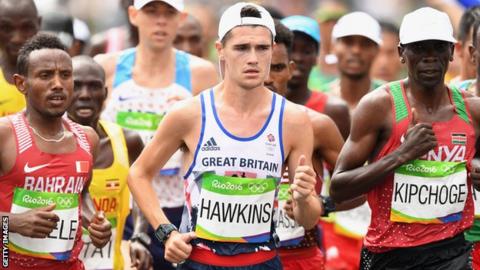 Olympians Callum Hawkins and Andy Butchart are swapping the glamour of Rio for the mud of Saturday's Scottish National cross country relays.
Hawkins, 24, finished ninth in the Olympic marathon, while Butchart, 25, was sixth in the 5,000m final.
Butchart's Central AC team are looking for a fifth successive win at the event, with Hawkins' Kilbarchan AAC expected to mount a challenge.
Over 60 clubs are represented, with a record entry number of 2390 athletes.
Butchart and Hawkins may not go directly head-to-head in the four-runner contest, but their presence adds sparkle to the domestic season.
"It's great that Callum and I are racing at Cumbernauld," Butchart told BBC Scotland.
"We have both come through the cross country scene and, for me, I very much want to keep that in my training programme through the winter months."
Mark Munro, chief executive at Scottish Athletics is sure younger athletes will get a kick from seeing Olympians in action.
"This is one of the biggest events in our year and having people like Andy and Callum racing in club vests only adds to that," he said.
'We've seen Callum and Andy in action here a number of times over the past few years and Laura Muir (seventh in the 1500m final in Rio) has been a key supporter of the early season cross country events, as well.
"So the pathway is obvious and that's a huge motivation for our young athletes."