Mike Towell: Ticket sales money from Ricky Burns fight to help boxer's family

By Richard Wilson
BBC Scotland
Last updated on .From the section Scotland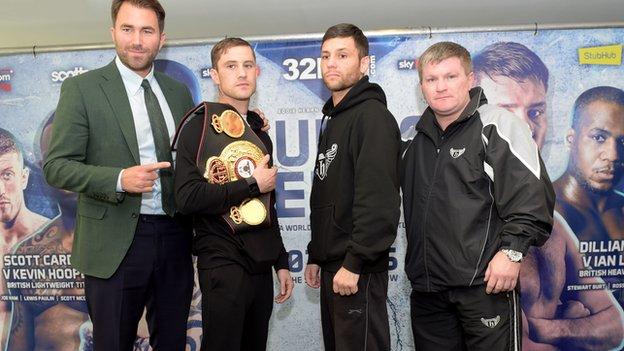 Promoter Eddie Hearn has pledged to donate ticket proceeds from world champion Ricky Burns' fight to the family of Scottish boxer Mike Towell.
Towell, 25, died in hospital last Friday after being injured in a fight with Dale Evans the previous day.
Burns defends his WBA super-lightweight title on Friday, and some of the ticket money will go to Towell's family
The gesture follows a fundraising appeal started by former world champion Ricky Hatton, who donated £5,000.
Towell, from Dundee, is survived by his partner, Chloe Ross, and his young son, Rocco. The welterweight was carried from the ring at Glasgow's St Andrew's Sporting Club and taken to the Queen Elizabeth Hospital with severe bleeding and swelling to the brain.
Hearn believes the boxing community is compelled to rally and provide support to Towell's loved ones. His initiative is that 100% of the money raised from ticket sales between midnight on Wednesday and midnight on Thursday night will be donated to the family.
'Look after our own'
"The boxing community was devastated by the passing of Mike Towell last week," Hearn said.
"I don't think there was anyone involved in boxing that didn't take that news really badly. We can only pass on our condolences and sympathy to the family. The boxing world has to make sure the family of Mike Towell are comfortable at a time like this.
"It's a sport littered with ego and rivalries, but at a time like this everyone just comes together and says we need to look after our own."
The fundraising appeal started by Hatton quickly raised more than the £20,000 target that had been set. The Manchester-based trainer and promoted works with Burns' opponent, Kiryl Relikh, and hopes that the appeal provides some financial support to Towell's partner and son.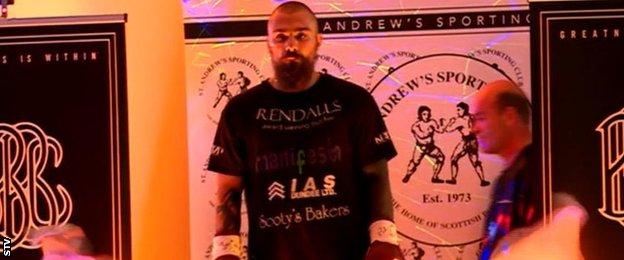 "I felt it was something I had to do," Hatton said. "I'm a family man myself. It's heartbreaking that Mike passed away in the way that he did, he has a youngster there, and finances are not the greatest for their family.
"It was an easy thing for me to do. I had the fan base not just because of how I was in the ring, but I had a big heart in and outside the ring. As a father, I can't even comprehend what the family are going through. I hope it helps the family massively."
'Boxing in a better place than ever'
Both Hearn and Hatton acknowledge the view that boxing should be abolished following Towell's death, but they insist that the sport is safer than it has ever been.
"It's very dangerous sport and everybody understands the risks involved," Hearn said. "Two deaths in over 20 years goes to show you the leaps and bounds made by the British Boxing Board of Control, the paramedics' assistance at ringside now is better than ever, the attention fighters are getting, the medical fare in terms of scans and reviews of their licenses.
"Unfortunately in sport, accidents happen. There are many more dangerous sports out there than boxing. It's a special sport and you see that from the people coming together at a time like this. Boxing is in a better place than ever from a medical point of view."
Burns admitted that he cannot comprehend the suffering of Towell's family, but he too believes that boxing is well-regulated.
"You've got medical check-ups before fights," he said. "Every now and again, something like that happens, but it's 20-odd years I've been boxing for.
"There are so many people who love this sport, from amateur to pro, and they all know the risks. It's just a shame that sometimes accidents happen."