Rio Paralympics 2016: Scots' achievements can be felt beyond sport
Last updated on .From the section Scotland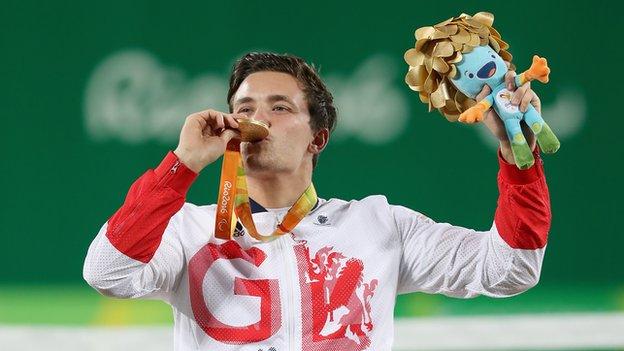 As the Paralympians returned to Scotland for a Homecoming ceremony`, we asked freelance journalist Michael McEwan for his assessment of the Rio Games.
Once again ParalympicsGB had a successful Games this year in Rio, particularly for our Scottish athletes.
In fact, it was a record medal year, with Great Britain coming second in the table below China, and beating the London 2012 gold medal haul.
Indeed, for the Scots it was also a record year, with the haul of 17 medals six more than four years ago.
Aside from the sporting achievements, the Games are an excellent platform for disability sports and showcase that people with a disability can compete in sports.
In the coming weeks, months and years these Paralympians become role models not just in sport, but also in society.
Disabled athletes, however, aren't just Paralympians, but everyday people from all ages and walks of life; they may be your neighbour, classmate, co-worker, whether training for competitions or just for fitness or fun.
Scottish medal winners as part of ParalympicsGB team in Rio
5 gold
Gordon Reid, wheelchair tennis singles; Libby Clegg, athletics T11 200m; Jo Butterfield, athletics F51 Club Throw; Libby Clegg, athletics T11 100m; Karen Darke, cycling H1-3 time trial
8 silver
Maria Lyle, athletics T35-38 4x100m relay; Gordon Reid, wheelchair tennis Men's Doubles; Alison Patrick, alongside guide Hazel Smith, PT5 para-triathlon; Neil Fachie, along with pilot Pete Mitchell, cycling Tandem B 1000m time trial;
Stef Reid, athletics T44 long Jump; Scott Quin, swimming SB14 100m breaststroke; Andrew Mullen, swimming 50m backstroke S5; Abby Kane, swimming 100m backstroke S13
4 bronze
Andrew Mullen, swimming S5 200m freestyle; Maria Lyle, athletics 100m T35; Maria Lyle, athletics 200m T35;
Andrew Mullen, swimming 100m S5
There are a number of organisations in Scotland who support and sustain disability sport. Scottish Disability Sport (SDS) is the Scottish governing body for athletes and players of all ages with a physical, sensory or learning disability. SDS's major partners are the agency sportscotland, local authorities and many disability organisations.
Most disability organisations are voluntary, so one of the biggest challenges to the development and growth of disability sport in Scotland is funding. This currently comes from a number of different sources including government grants, Big Lottery Fund, charities like Comic Relief, Sport Aid Scotland and business sponsorship, such as Barclays Community Sports Awards.
Scottish government investment has risen from £250,750 in 2007/08 to £653,600 this year, culminating in a total of £5,182,500 government-based funding in Scottish Disability Sport since 2007/2008

A new £9m parasports facility,

based in Largs, is under construction. The first of its kind in the UK, it will ensure disabled athletes can train at world-class, fully integrated, multi-sports facilities

The funding is part of the government's work to ensure a lasting legacy from Glasgow 2014, which featured the highest number of para-sport medal events in the history of the Commonwealth Games.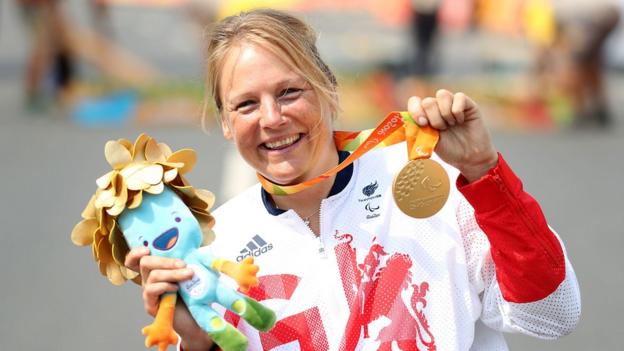 Mearns Castle Golf Academy and Paragolf Scotland hosted a fun day on 24 September to increase awareness of disabled golf and raise funds towards a third Paragolfer at the club.
The Paragolfer, first launched at Mearns Golf Academy by Paragolf Scotland in April this year, makes golf accessible to wheelchair users by raising them into an upright position so that they can swing at the ball.
This innovative device, brought to Scotland with funding and support of the Social Care Ideas Factory (SCIF), The Watson Foundation and The Stand Up and Play Foundation, has three wheels and a joystick control console similar to a power wheelchair.
The recent billboard ad campaign for Channel 4 coverage of Paralympics in Rio was to put a line through the "dis" in "disability", and reflect the continued results over the years at both national and international level.
I think that we as a nation should recognise the ability in Scots para-sports athletes and players.
To this end, I hope that funding sources continue to grow in recognition of the developing interest of new participants in disabled sports events, building on already strong para-sports teams and individuals, who will become the role models of the future.