Ice hockey: Fife Flyers live up to their name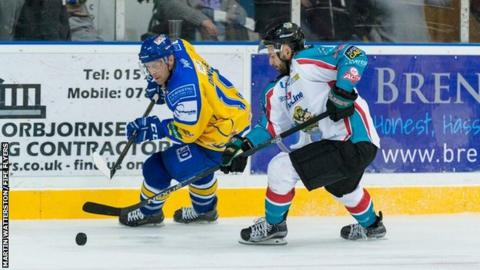 Fife Flyers' head coach Todd Dutiaume says his team have something to build on after sealing two opening victories in the Challenge Cup.
Fife were flying following Saturday's 5-2 win over Belfast Giants with an overtime 4-3 victory over rivals Braehead Clan on Sunday.
And Dutiaume explained it has come with some adversity after a tricky summer.
He said: "We had to compress a two-week training camp into one and as a full team we've only trained three times and played exhibition games at a lower intensity.
"So I was pleased to see them step up against two good hockey clubs. Belfast were a little depleted, while Braehead were still missing a player, but we're still missing one too.
"It's been a long summer for me and I think we've brought good people in. They want to play for each other and already they've showed me they care and it's something to build on."
Fife Flyers flying
Flyers stunned Belfast early in their meeting in Kirkcaldy on Saturday and never looked troubled as they took their first points of the season.
Stephen Gunn, Sebastian Thinel and David Turon put Fife three up before David Rutherford finally hit back for the Giants, but Justin Fox restored the three-goal advantage.
Rutherford reduced the deficit again, but Chase Schaber made sure of the points with a goal nearly in the third period to give the home fans cause for celebration.
That continued into Sunday at Braehead, taking the points in a historic overtime period where the three-on-three player system was introduced to the Elite League for the first time.
Craig Peacock opened the scoring, but was cancelled out by an excellent Shayne Stockton shot before Scott Pitt and Thinel scored one each for either team.
Ryan Dingle put Fife in front late in the third, but Matt Beca's backhanded finish ensured the game went to overtime, where Carlo Finucci's finish clinched a four-point weekend for Fife.
Clan's head coach Ryan Finnerty had plenty to be positive about, but rued the penalties his side took late on.
He said: "It's tough to lose. I was disappointed in our discipline and they capitalised on what little chances they had.
"We have to learn from this and I felt we played some exciting hockey. But we can't afford to take the penalties we took.
"It's early and it's a process, but I thought we looked very dangerous. It's a long road ahead and I'm full of confidence for this group."
Edinburgh seeing stars after two defeats
Dundee Stars and Edinburgh Capitals met twice in pre-season action over the weekend, with Marc LeFebvre's side winning on both occasions
On Saturday, the Stars took a 4-2 win at home with Matt Tipoff netting first for the Caps before Matt White equalised for Dundee.
Justin Faryna and Brett Switzer added two more for LeFebvre's side before Yevgeni Fyodorov pulled one back for the Murrayfield men followed by Vinny Scarsella finishing the Caps off.
Stars took victory again 24 hours later in Edinburgh, but Mason Wilgosh scored for the Caps early before Justin Faryna levelled at the end of the first period.
Fyodorov restored Edinburgh's lead, but Dundee nabbed the win through Brett Switzer, Joey Sides, Faryna, Scott Brannon and Felix-Antoine Poulin to seal a 6-2 victory.
Weekend results
Saturday
Challenge Cup: Fife Flyers 5-2 Belfast Giants
Friendly: Dundee Stars 4-2 Edinburgh Capitals
Sunday
Challenge Cup: Braehead Clan 3-4 (OT) Fife Flyers
Friendly: Edinburgh Capitals 2-6 Dundee Stars