Home Internationals: Ireland snatch dramatic win at Nairn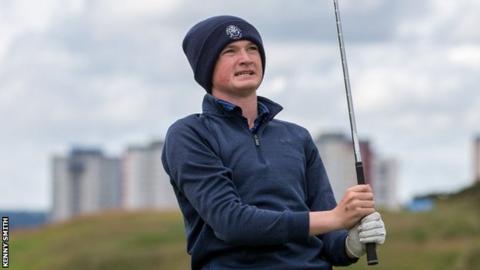 Ireland dramatically retained their Home Internationals Amateur title with a final day 8-7 victory over England at The Nairn Golf Club.
Colm Campbell sealed victory on the final hole in the final singles match with a birdie enough to ensure the win.
It is Ireland's third consecutive triumph following successive victories at Southerndown and Royal Portrush.
Wins in the singles for Barry Hume and Matthew Clark ensured Scotland avoided last place at the expense of the Welsh.
The Irish trailed by one point after the morning foursomes but showed tremendous nerve to win their last four singles matches to secure victory over an England side aiming for their first win since 2013.
A strong singles performance on Thursday from the Irish ended Scotland's chance of overall victory, but the home nation did secure third place with an 8-7 win over Wales.
Nairn member Sandy Scott emphatically earned his second win on the final day with a 40-foot birdie on the undulating 14th green to seal a 6&4 win over Ben Chamberlain.
That followed an impressive 5&3 foursomes morning victory alongside Calum Fyfe for Scott, the youngest member of the Scotland side, who leaves to start a four-year scholarship in Texas next week.
"It was good week because in the foursomes we played very well," he said. "I don't think we lost a foursomes match against any country.
"I felt a little bit of leadership this week. Being at your home course I've felt confident about any shot I've had.
"The singles let us down a little bit. A lot of narrow losses, we were almost there."