British Touring Cars Championship: Gordon Shedden aims to keep title bid on track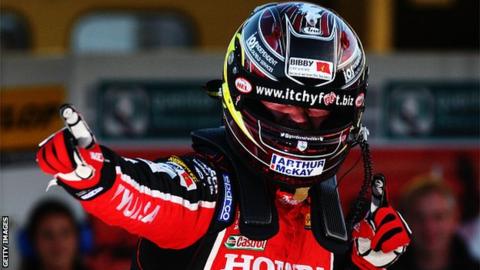 Reigning British Touring Car champion Gordon Shedden says he must score points at Knockhill to maintain his hopes of defending the title.
The BTCC Championship makes its annual pilgrimage to Scotland this weekend during what Scotsman Shedden deemed as the 'business end of the season'.
"It's a special race, because it's the only time I get to race in Scotland during the Touring Car Championship," Shedden told BBC Scotland.
"It is an absolute homecoming for me."
The two-time BTCC champion praised the unique atmosphere at Knockhill ahead of the race.
"The crowd can get really close to the action and just get so involved over the weekend at Knockhill. It really does give me that extra little spring in my step."
Shedden is currently fourth in the BTCC leaderboard with four races remaining, starting with this weekend's event at Knockhill and ending with the final meeting at Brands Hatch in October.
After winning two weeks ago at Snetterton, the Edinburgh driver believes he has given himself an opportunity to win back-to-back titles.
"We had a tough start to the year, but got a lot better last time out (at Snetterton).
"I'm a little bit under the radar just now, but certainly the goal is still to retain the Championship.
"At this stage of the season, the gloves are off and everyone has got to scrap for every last point available."
Meanwhile, fellow Scot Aiden Moffat will be competing alongside Snedden at Knockhill this weekend.
Moffat made headlines in 2013 when he became the youngest ever touring car racer aged 16 years, 10 months and 28 days, debuting at Knockhill.
Now 19-years-old, Moffat - currently 17th in the drivers' standings - believes he can mount a title challenge in the near future.
"It's been a steep learning curve for me, but we're constantly progressing - we're going in the right direction.
"We've had great pace in the car this year, but unfortunately we haven't had much luck.
"I want to establish myself as a consistent name in the field, and then push for the title, which we're more than capable of."