Rio 2016: Hannah Miley not considering retirement after painful fourth place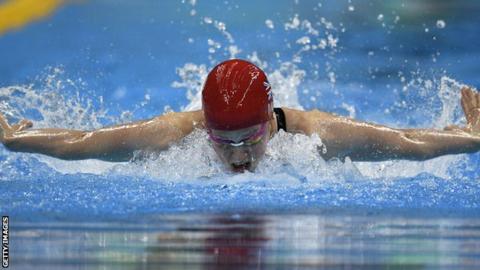 Hannah Miley insists she has given no thought to ending her swimming career following Olympic disappointment.
The 27-year-old was pipped to a podium finish in the 400m individual medley by less than a fifth of a second.
And the Scot missed out on the final of the 200m event, placing 12th in qualifying.
"Retirement is not on the cards yet," she told BBC Sport. "I'd need to stop enjoying swimming for that to happen and that's not the case."
Miley admitted she was "still hurting from the 400" but, with the 4x200m freestyle relay heats to come on Tuesday, was bidding to remain upbeat.
"It would be selfish if I just sat in the corner and cried to myself," she said. "I need to be strong for the team because it's not just about me."
In 2012, Miley was World and European champion over 400m but missed out at the London Olympics, finishing fifth in the final, one place better than her performance in Beijing four years earlier.
She collected her second Commonwealth Games 400m gold at Glasgow 2014, along with a bronze in the 200m.
On her future, she added: "I've set myself a target of doing the World Cups to keep myself ticking over.
"I want to try and find a new way of viewing my races and kind of enjoying it a lot more."