Shinty: John MacDonald enjoys passing on his great experience
Last updated on .From the section Scotland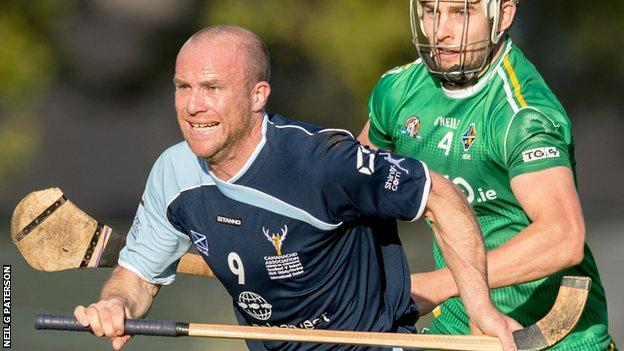 From my earliest childhood memories I was never without my shinty stick and ball. I spent all my time practising shinty or football.
As I grew older shinty would always take priority over football, to some of my close friends' disappointment.
Growing up I was very fortunate as my grandfather was an extremely keen follower of the game and my uncle Willie MacDonald played for Fort William's first ever Camanachd cup winning team of 1991 and received the sacred Albert Smith medal for his performance.
I owe so much to Willie as he taught me how to play, especially as a teenager wanting to go out to the Jubilee Park in the pouring rain to play. So the game was in my blood from day one.
Over the years the game has changed massively. It's certainly not as physical as it was.
When I was younger I was always trying to make myself fitter, faster and improve on my shinty whereas these guys are few and far between nowadays.
That's by no means me saying that they don't exist now, there's maybe just not as many.
Maybe I was spoilt because I grew up striving to be as good as the likes of Davie Anderson [Kingussie], Dougie Macintyre [Oban Camanachd] and Victor Smith of Fort William, who I had the privilege of playing alongside.
My dream as a youngster was to win the Camanachd Cup and at one point in my career I thought I'd never get the chance.
I'm a great believer in you only get out what you put in and I made a lot of sacrifices for shinty.
Fortunately, my day did come and I lifted the cup as a player for the first time in 2007 at the Bught Park in Inverness.
Fort William then went on to win the cup for the next three years and I captained the side when we won it in 2009 in Oban.
After spending most of my career playing for Fort William I decided to return to my local club, Ballachulish, who currently play in the national division. I thought it was time to try and give something back to the sport by helping pass my knowledge onto the younger generation.
Throughout my career, so many people have given up time to spend with myself and my many different team-mates, whether it was through coaching or encouraging them to improve their game and help improve others.
These people are invaluable to the sport, so much time and effort goes into the game behind the scenes. It's incredible what these people do for the love of the game.
Shinty will hopefully continue to strive and attract more and more people to it. Nowadays the game is being played in many countries which is fantastic.
Now that I'm in the latter stages of my career I would say to any youngster today that effort and commitment will pay off and we need every youngster available to keep this great game alive.
Without them the game would have no future. Without all the coaches and my family I would never have achieved what I did.
Hopefully, there's still some room for some more.