Shinty owes a debt to fitness champion Neil Bowman

By Gary Innes
Fort William shinty wing centre
Last updated on .From the section Scotland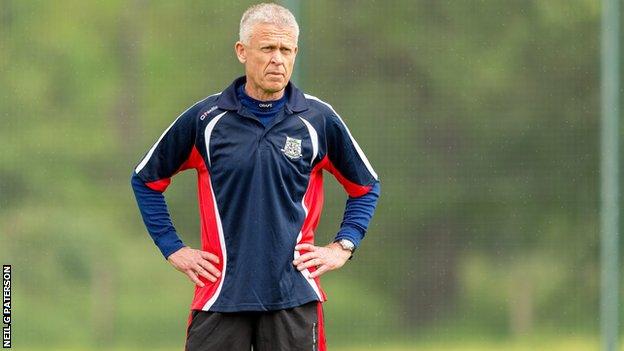 Our sport has changed over the past decade or so with fitness now playing a far larger part within the sport than ever before.
This has potentially been highlighted since shinty was reversed from winter to a summer sport after a vote at the end of the 2003 season.
I believe there has been one man throughout this whole period who has single-handedly revolutionised the way clubs now train, especially the top clubs in the sport, because of his ethos.
That man is Neil Bowman.
Neil, a former royal marine and now a sports lecturer in Inverness, was brought in by Kingussie Shinty Club in 1997 and has been a stalwart figure throughout the years and various back-room staff changes until the present day.
He trained shinty's elite throughout many 'Grand Slams' and through King's untouchable league domination, which is now stamped in the Guinness Book of Records for ever more.
From the outside looking in, what Neil brought was a new professionalism to training which included a focus on recovery, diet and hands-on treatment for pulls, pains and strains for all at Kingussie shinty club.
Neil's professional take on training - coupled with the resulting Grand Slam years for Kingussie - really got the attention of the rest of the shinty community who started to introduce a higher professionalism to their own training.
His command and respect from the Badenoch club is as you would expect, however there are many in the wider shinty community that may not know just how influential his contribution to the sport has been.
I can also tell you, as a guy who enjoys a blether and a bit of craic, I have also felt the sharp edge of Mr Bowan's tongue over the years at Scotland trainings.
What I leaned fairly quickly though was no matter how much of his wrath you felt while training, there was always a cheeky 'well-done' grin at the end of it.
I feel very fortunate to have worked with, or on occasions been punished by, Neil throughout the various North of Scotland and Scotland squads over the past decade and feel he is a real unsung hero throughout the sport.
Therefore I thought I'd take this opportunity, with Kingussie returning to the Camanachd Cup final once more in a couple of weeks time, to highlight his contribution to the sport at all levels.
It is with great sadness that shinty lost another true gentleman and stalwart this week - Glasgow Mid Argyll's Donald J MacNiven.
Donnie, as he was best known to friends, was originally from Tighnabruaich. He played with GMA from 1955 and went on to lift the Celtic Society as winning captain and was possibly shinty's only man to have held every single position within their club.
He managed the Scotland team for four years in the 1970s and in 2009 was presented with the Marine Harvest Centenary Award for outstanding contribution to shinty. In in 2013 he was made a member of honour of the Camanachd Association.
A real gentleman who throughout his life had shinty well and truly running through his veins.
When I first moved to Glasgow in 2002, both Donnie and current Camanachd president Archie Robertson could not have been more accommodating and welcoming to their training nights and club gatherings. A gesture that will never be forgotten.
My thoughts and best wishes go out to all of Donnie's family and all at Glasgow Mid Argyll at this very sad time.
Safe travels to all clubs and supporters this week.