Shinty's splinter problem as camans crack too quickly

By Gary Innes
Fort William shinty wing centre
Last updated on .From the section Scotland3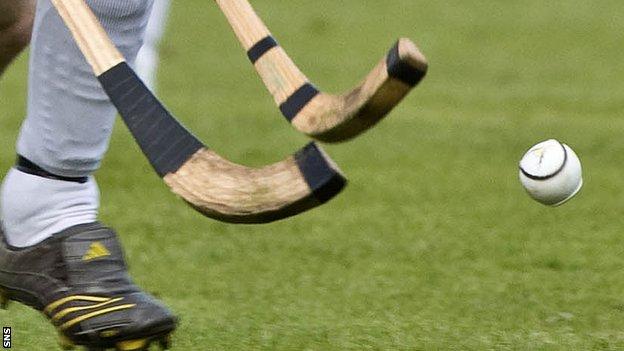 In shinty today we have a fair selection of wooden wands to choose from, which include the likes of, Tanera, Munro's, Heron, A&B camans, to name but a few, all varying in price, look, feel and craftsmanship.
Before we get to swing a caman in our hands, there is quite a lengthy process it has to go through before we get the privilege of hitting a ball on a Saturday afternoon with our new weapon of mass destruction.
With this process comes a cost. As the price of wood and materials rise with inflation, so does the cost of a caman to a club and player.
Of course, when you get a clash of camans, or any form of blunt force onto a piece of wood, eventually it breaks. Sometimes it's salvageable, however there is nothing worse than just getting a new stick, sticking a nice new colourful grip on it, then 20 minutes later donating it as firewood.
It seems more and more often the later is happening. So why is this?
Is it because we are bigger, hardier boys nowadays, swinging faster and stronger than ever before? I don't think so.
It would appear that as the cost of camans has risen, the quality is decreasing.
Maybe I'm completely wrong, however I can only talk from my own experience and that of my fellow players and peers.
Do you agree or disagree? I want to hear your thoughts on this and tell us what you think the best caman on the market is today and why?
The RBS MacTavish Cup final takes place this weekend at the Bught Parks, Inverness, where local rivals Glenurquhart meet current holders, Lovat, in a repeat of last year's final.
Lovat are the holders after a 60-year drought at the club and they are currently sitting behind Newtonmore in the title race for top spot in the Premiership.
Glenurquhart head into the clash in fine form and progressed through to the final in dramatic fashion, beating Newtonmore in a nail-biting, sudden-death penalty shoot-out at Drumnadrochit.
It's a rare thing in shinty when addressing a final not to instantly talk about the form forwards. This time though we have possibly the two best young keepers in the game going head-to-head.
No matter how good your forward line is, if either Lovat's Stuart MacDonald or Glenurquhart's Stuart Macintosh are at their best, it will take something special to get the ball past them.
Glenurquhart will be keen to turn the tables after last year's loss on penalties, which featured some fine work from the aforementioned goalkeepers, while Lovat will be looking to keep their silverware polish stocked up in Kiltarlity for yet another year.
If you would like to watch the RBS MacTavish final, throw-up is at 16:00 BST at Inverness' Bught Parks.
Who do you think will lift the trophy? For me, this one is too close to call but I've a wee sneaky feeling in my waters that Glenurquhart may get their revenge this year.
I should maybe go and get that checked out!