Scotland in good on hands with Ronaldo of the Glens

By Gary Innes
Fort William shinty wing centre
Last updated on .From the section Scotland2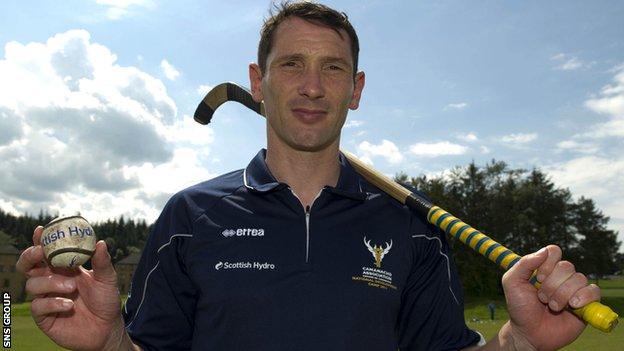 This week in the world of shinty, legendary sharpshooter, Ronald Ross MBE was announced as the new Scotland senior manager.
'Ronaldo of the Glens' has lifted every trophy in shinty with Kingussie and a few outside the sport, including being twice crowned with the Glenfiddich Spirit of Scotland Award.
I have tried brainwashing the kids of Spean Bridge otherwise, however, in my mind, Ross is the greatest modern day shinty player of our generation and possibly of all time.
Within the composite rules, shinty/hurling match-up, he has captained the national squad and more recently been head coach of the Scotland Under 21's.
With Ross's experience, knowledge and sheer desire to win, I think this is a fantastic appointment.
The international series has come under a fair bit of criticism the past few years and Scotland have not yet managed a win over the Irish since the home and away' legs were introduced in 2010.
In recent years a number of the top players have snubbed the series for various reasons, with, training schedules, fitness tests and more time spent away from families, cited as the key gripes.
However, I'm sure Ross will be the very man to get the main men back involved with this fantastic match up with a wee bit of persuasion.
This year's internationals take place on 18 and 25 October and we'll get a good blether about all that before then.
Looking back to last weeks blog, we had great feedback regarding 'Ten things you didn't know about Shinty' and it was pointed out that Tighnabruaich's TR Nicholson was not the only Olympian to play shinty, with ski sensation, Alain Baxter, who played for Kincraig, joining the list.
If you can think of anymore shinty players that went on to be Olympians or vice versa, then please do let us know.
For some clubs, including ourselves at Fort William, the weather has played havoc with the start of the season, and here we are heading into the third weekend and not yet hit a ball.
Two seasons ago, The Highland Council in Fort William spent £140,000 on drainage at our home field, An Aird and it still looks like an arena for the TV show Total Wipeout!
I think in future rather than the council and local field committee's spending all that money on drainage, they should give me the £140,000, and I promise to be there every Saturday with my wellies on and squeegee in hand.
If the council come calling and this job opportunity does arise, I'll be looking to hire fairly soon, so anyone that feels they can handle a brush and a dab hand at dispersing water with a squeegee, please apply below.
Starting rate is £35,000, 3 hours per week, life jacket provided!
Safe travels to all clubs and supporters this weekend...