Sport, Scotland and the impact of independence

By David Bond
BBC sports editor
Last updated on .From the section Scotland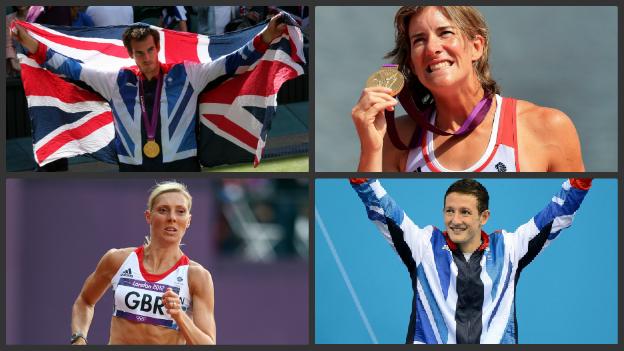 When it comes to the potential impact of the Scottish independence referendum on 18 September, sport might not be as important as matters of defence or the economy.
But, in some ways, the passions and opinions stirred by sport can be just as deep.
For Monday night's The Editors programme on BBC One, I looked at the implications for sport and, in particular, the effects on Team GB if Scotland votes for independence later this year.
While it unquestionably presents an exciting opportunity for Scotland, it raises serious questions that would have knock-on effects for the whole of the United Kingdom.
First, a bit of context.
Scottish athletes helped win 13 - or 20% - of the 65 medals claimed by Britain at the London Olympics in 2012.
Yet they only made up around 10% of the 542-strong team - a figure roughly in line with the split of the British population and one that echoes Scottish representation at the Games in Beijing and Athens in 2008 and 2004.
If Scotland voted 'yes' to independence, then a new Scottish Olympic and Paralympic Association would be formed.
Although the International Olympic Committee says it would grant Olympic status to any new nation recognised by the international community, it is unlikely to happen in time for the Rio Olympics in 2016.
That's because the negotiations over a new Scottish government could take as long as 18 months.
In any case, Scottish athletes have been guaranteed the choice to compete for a new Scottish team or to stick with Team GB, raising the prospect of Scots competing against Scots in the Olympics.
For those nationalist politicians pushing the 'yes' argument, a Scottish team in the Olympics would be a great source of pride.
While the Scottish football team has not qualified for the World Cup finals since 1998 and the rugby union side has not won the Six Nations since it was the Five Nations back in 1999, both teams attract huge support and are a big part of the national identity.
Henry McLeish, Scotland's former First Minister, is carrying out a Scottish Government-backed review of sport in the event that the country votes for independence later this year.

He believes Scotland can become a power in world sport, emulating other smaller European countries that punch above their weight globally.
He also says there is no reason to fear that an independent Scotland would struggle to unearth another Sir Chris Hoy or Kath Grainger.
Scottish sports minister Shona Robison told me that there is great confidence Scottish sport would be able to stand on its own two feet and would be able to attract world-class coaches.
But while Sport Scotland has a budget of £74m for 2013/14 - £14m of which funds elite athletes - how would Scotland fund and run a far bigger elite sports programme aimed at delivering an Olympic and Paralympic team every two years?
At the moment, Scottish athletes receive around 10% of UK Sport's World Class Performance Programme, which is worth about £125m a year.
But their access to the best facilities, coaching and medical and scientific support is far harder to quantify.
Could Scotland truly replicate that even if a new independent Scotland successfully negotiated the same share of that UK Sport money after the referendum?
And what of ambition? Many of the athletes I spoke to said that, while they were fiercely proud of being Scots and were looking forward to competing in this year's Commonwealth Games in Glasgow, removing the chance of competing for Team GB meant losing a level of prestige and honour that wouldn't exist if they could only compete for Scotland.
Most athletes, it seems, would like the status quo to continue even though they might have a greater chance of getting to an Olympic Games as part an independent Scotland team.
Arguably Scotland's greatest-ever Olympian, track cyclist Hoy was chosen to carry the British flag during the opening ceremony in London in 2012.
But that might now be one of the last times athletes from England, Wales, Scotland and Northern Ireland march into an Olympic Stadium together as part of the same team.
So, while the referendum would undoubtedly reshape the way Scottish sport is run and funded, it could also have major implications for the culture and identity of British sport, too.