Dundee Stars coach delighted with bright displays
By Craig Anderson
BBC Scotland
Last updated on .From the section Scotland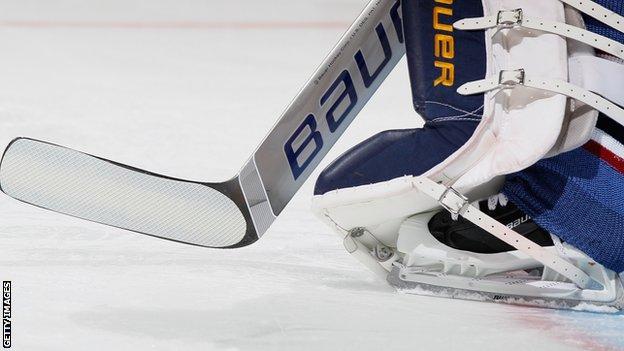 Jeff Hutchins expressed delight as Dundee Stars ended the weekend as the only team with a 100% record in the Elite League.
A massive 5-2 win against current champions Nottingham Panthers was followed up by a slender 4-3 victory over Sheffield Steelers on Sunday.
And the Stars' player-coach even admits he's surprised at the results his team are producing.
"It's been a fantastic run and I can't say enough about these guys and their work ethic," he said. "We don't have a lot of superstars, but we're working as a team and it's going well.
"But we can't take anything for granted. It's not time to sit back and start smoking cigars. There's going to be adversity and we must get ahead of ourselves.
"We did a great job in neutralising the offensive lines of these two teams and if I'm honest, I didn't expect to come out with the results we got this weekend."
While Friday's result may have surprised many, Sunday's score suggests Dundee could be a force to be reckoned with this season.
Four different scorers in Brock McPherson, Mike Wirll, Billy Bagron and Nico Sacchetti also shows the depth of talent the Stars have at their disposal.
They were 4-1 up when Rylan Galiardi and Stefan Meyer netted for Steelers to set up an edgy finale, but Dundee stood firm to keep their place at the top of the Elite League.
Down the road, Edinburgh Capitals also played both the Steelers and the Panthers at home, but are still searching for their first win of the season.
Maxime Lacroix's hat-trick and a double from Jeff Legue sent the Steelers on their way to a thumping 10-3 win over the Caps.
Then there was a much better display on Sunday against the champions, but again they were handed another defeat, this time going down to Nottingham.
Matt Francis then Robert Lachowicz put Panthers into a 2-0 lead, but new boy Tomas Horna pulled one back for the home team.
David Clarke and Jonathan Boxhill doubled the visitors' lead again, only for Jan Safar to pop up with a thunderous blast to reduce the score, but Panthers won 4-2 at Murrayfield.
Fife Flyers had a weekend of it, between a poor referee call on Saturday and a broken down bus en route to Coventry on Sunday.
Justin DaCosta's penalty shot beat Panthers goalie Craig Kowalski as 60 minutes and overtime couldn't separate the teams after a 4-4 draw.
But referee Rab Cowan chalked the goal off, which would have kept Flyers in the match, leaving Fife feeling angry and frustrated.
Sunday's game saw face off delayed by two hours as Flyers had broken down on their way to Coventry Blaze.
They would have wished they had never made it to the Skydome after Ryan Ginand grabbed four in a 6-1 rout, with Ross Venus and Russell Cowley also netting. DaCosta scored Flyers' consolation.
But Braehead Clan finally broke their points duck when they visited Cardiff Devils on Saturday night and secured a 4-3 win.
Nathan Moon, an Ash Goldie double and Joel Champagne was enough to secure the first points of the season under new coach Ryan Finnerty.
RESULTS:
Friday:
Dundee Stars 5 Nottingham Panthers 2
Saturday:
Cardiff Devils 3 Braehead Clan 4
Edinburgh Capitals 3 Sheffield Steelers 10
Fife Flyers 4 Nottingham Panthers 5 (PS)
Sunday:
Coventry Blaze 6 Fife Flyers 1
Dundee Stars 4 Sheffield Steelers 3
Edinburgh Capitals 2 Nottingham Panthers 4